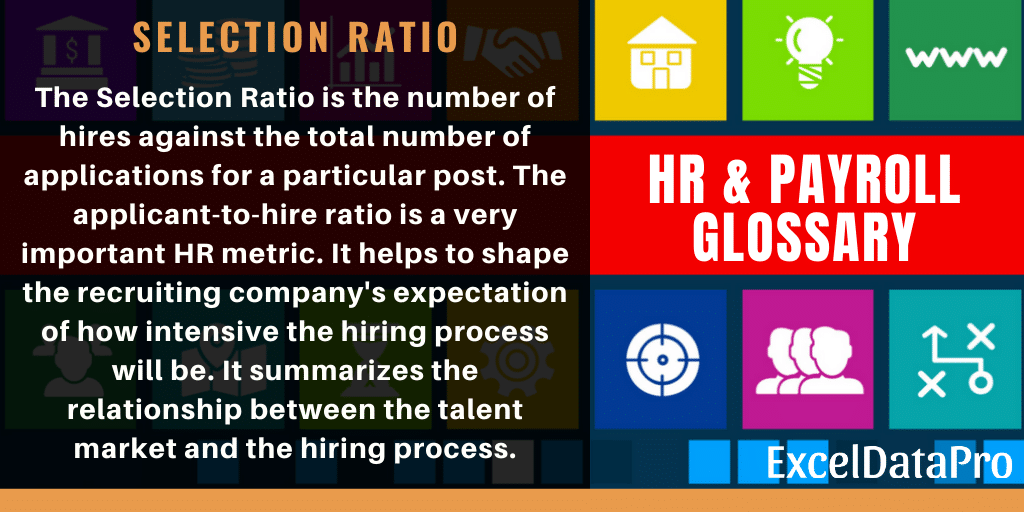 Selection Ratio – Definition
As per "Wiki", the Selection ratio refers to the ratio of the number of job positions to the number of job applicants and is used in the context of selection and recruitment.
In simple terms, the Applicant-to-Hire Ratio is the number of hires against the total number of applications for a particular post.
You can calculate Applicant-to-Hire Ratio for an individual post as well as the overall ratio for multiple posts.
The applicant-to-hire ratio is a very important HR metric. It helps to shape the recruiting company's expectation of how intensive the hiring process will be. It summarizes the relationship between the talent market and the hiring process.
Formula To Calculate Selection Ratio
To Calculate the Applicant-to-Hire Ratio, divide the number of hired candidates by the total number of candidates for a particular post.

When there are multiple job openings then divide the total number of candidates hired by the total number of applications received for all posts.
Examples
Let us understand this ratio with some examples.
Single Post
Applicants Hired: 1
Applications Received: 20
Applying the above formula:
=1/20
= 0.05
= 5%
Multiple Posts
Applicants Hired: 50
Applications Received: 500
Applying the above formula:
=30/500
= 0.06
= 6%
The lower the ratio the better. HR professionals prefer a low ratio because it defines that they are highly selective in their hiring.
When the hiring process is stringent the applicant to hire ratios are lower. It is higher when there is a talent crunch in the market.
Factors Affecting Selection Ratio
Proper Advertising Channel.
Employer Brand.
Compensation.
Candidate Availability.
Source of Applicants.
When the company advertises the job post through the proper channel it receives more applications. Hence, it helps to lower the ratio. It also helps to catch the best talent available in the market.
Employer brand also plays a great role in the hire ratio. The better the brand more the applications to be received.
Employee compensation always plays an important role in the hiring process. When the compensation policies of the company are better than their competitors, the flow of application increases.
When the talent market is in crisis, it is difficult to find a good catch. You have to hire from the candidates that are available in the market. Hence, it increases the ratio.
The applicant source is also a major factor that affects the ratio. When the job post is properly marketed online, it receives more applicants. Hence, it decreases the applicant to hire ratio and vise versa.
We thank our readers for liking, sharing and following us on different social media platforms.
If you have any queries please share in the comment section below. We will be more than happy to assist you.