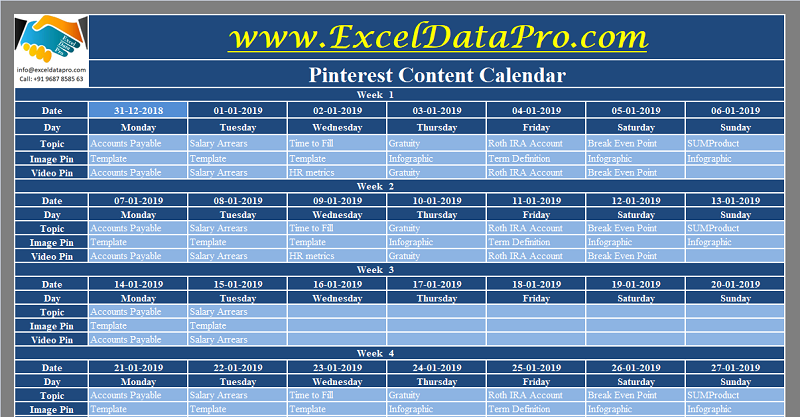 Pinterest Content Calendar is a simple and ready-to-use excel template to plan a week-wise pinning schedule for a year on Pinterest – an image and link sharing platform.
Pinterest is an emerging social media platform where you can share your images, infographics, content ideas, videos, etc. It has gained good popularity in recent years and has been a great source of traffic for the website.
Creating proper boards, collaborations, and pinning your useful content can help you get website traffic as well as followers on Pinterest.
While planning your Pinterest pinning strategy you have to be more specific. High quality, useful and unique content can get you ahead in the Pinterest search and also in google search.
The quality and quantity of pins on relevant board as and topics matters the most on Pinterest. This date-wise weekly Pinterest Content planner can help you plan and execute your Pinterest strategy effectively.
Pinterest Content Calendar Excel Template
We have created a simple Pinterest Content Calendar to help you plan a week-wise pinning calendar for a complete year. This can help you be consistent and gain popularity.
Click here to download the Pinterest Content Calendar Excel Template.
Click here to Download All Social Media Marketing Excel Templates for ₹299.
You can download other social media templates like Youtube Content Calendar, Twitter Content Calendar, Instagram Content Calendar, Facebook Content Calendar, Social Media Content Calendar, and Editorial Blogging Schedule.
Let us discuss the contents of the template in detail.
Contents of Pinterest Content Calendar Excel Template
There are 2 sheets in this template: Date-wise Weekly Pin Planner and Content Summary
Date-wise Weekly Pin Planner
There are 52 weekly slots starting from Monday to Sunday. All you need to do it to insert the date in the first light blue cell.
The template will automatically fetch the remaining dates for the whole year and also the weekdays using the TEXT Function.
Make sure that the starting date you wish to enter must start on Monday. Thus, it will display each week starting on Monday.
For example, the year 2019 starts on Tuesday. Thus, insert 31/12/2018 as the first date as it starts on Monday.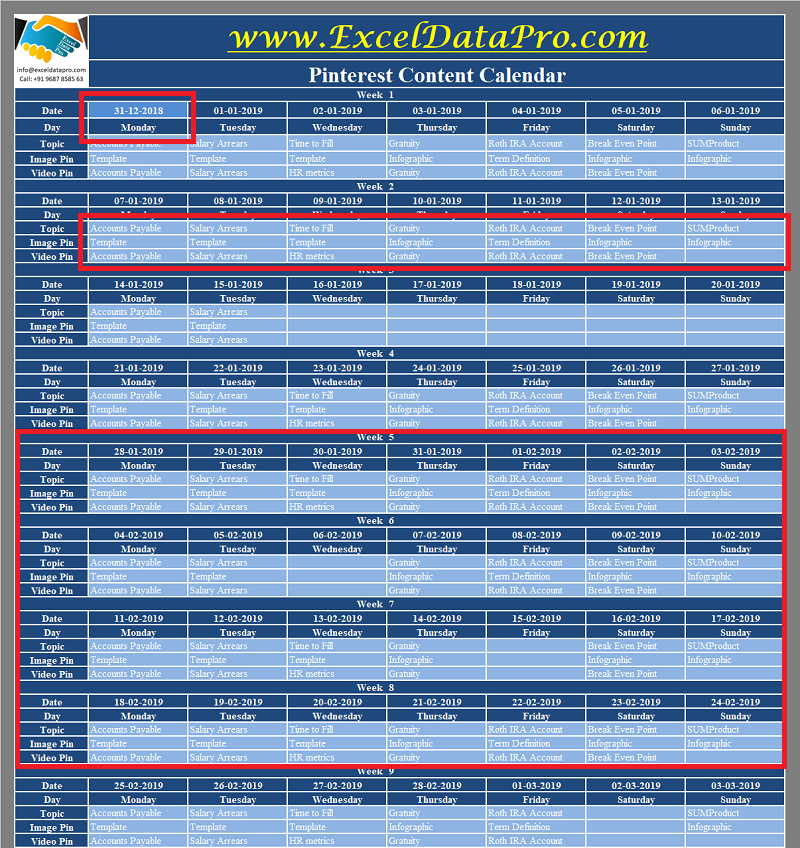 The companies in the Middle East can enter their week starting from Saturday or Sunday or else you can enter according to your needs
Ther are three rows to enter plan your pinning calendar. Topic, Image Pin and Video Pin.
In the topic section, you can enter the topic on which you are planning to pin from your content. Taking the example of our site, we are an excel template website. Hence, the first day's topic is Accounts payable.
In the image section, enter the pin that you wish to pin. As it is a template website, we are planning to pin the template image along with the template page link.
You can also pin your videos on youtube. It can be a great source of traffic and watch time for Youtube creators. Insert the video title. We plan to pin the video link for the same Accounts payable template.
Furthermore, many websites pin multiple topics a day. Hence you can insert more rows for this purpose. Along with your own pins, you can also pin other's content which is relevant to your topic.
The summary will calculate only the previously provided cells. Thus, you will redefine the formula in the content summary sheet. If you have any issues doing it you can contact us and we will be more than happy to help.
This way you can swiftly plan your Pinterest Content Calendar and maintain your social media presence.
Content Calendar Summary
The content summary sheet provides an overview of your posting frequency of every month. The sheet consists of predefined formulas and hence there is no need to do any kind of data entry.
It calculates the number of posts made during 4 week time. There are 12-13 slots of 4 weeks each. It displays the number of pins planned against the respective slot.
See image below for reference: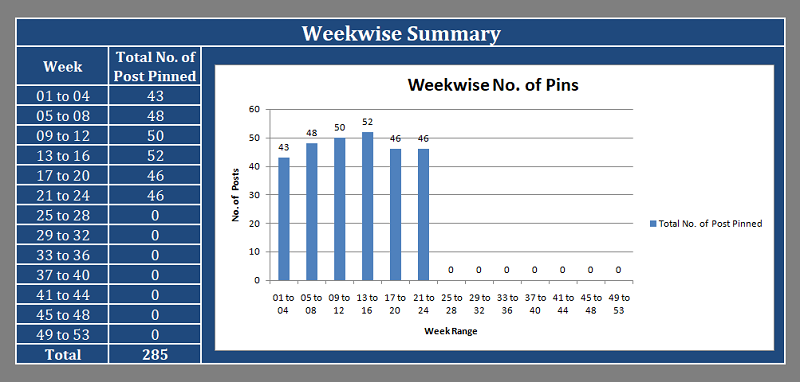 In addition to that, the template represents the summary in a graphical format.
Tips to Get More Traffic From Pinterest
Preplan your calendar. Always work in advance.
Pin in 80:20 ratio. Pin content of others in your niche to increase value.
Collaborate with people in your industry.
Use the proper title in the pin to rank in Pinterest search.
Design proper and meaningful images.
Use long-tail keywords in your pin description.
Do proper research.
Design proper boards relevant to categories.
Follow similar boards in your niche and ask them to follow yours.
Join a group board.
If possible, apply for rich pins.
Maintain consistency.
Be patient.
Claim your website.
Change to Business Account.
Create board for Latest Pins and set up your RSS feed.
We thank our readers for liking, sharing and following us on different social media platforms.
If you have any queries please share in the comment section below. We will be more than happy to assist you.