Youtube Content Calendar is a ready-to-use excel template to plan a week-wise video publishing schedule on Youtube for all 52 weeks.
Youtube has gained huge popularity in recent years as an awesome video platform. Proper planning and scheduling of Youtube content can get you more subscribers and more views.
While planning your Youtube videos have to be more specific. High quality and unique content can get you ahead in the Youtube search. Proper timing matters the most in videos.
Research for the trends pertaining in your niche, what types of videos are popular in your industry, How others are presenting etc in your post.
This Youtube planner can help you plan and execute week-wise video content for a complete year.
Youtube Content Calendar Excel Template
We have created a simple Youtube Content Calendar to help you plan a week-wise posting calendar for all 52 weeks of a year. This can help you be consistent and help you plan in advance.
Click here to download the Youtube Content Calendar Excel Template.
Click here to Download All Social Media Marketing Excel Templates for ₹299.
You can download other social media templates like Twitter Content Calendar, Instagram Content Calendar, Facebook Content Calendar, Social Media Content Calendar, and Editorial Blogging Schedule.
Let us discuss the contents of the template in detail.
Contents of Youtube Content Calendar Excel Template
This template consists of 2 sheets:
Weekly Video Planner
Content Summary
Weekly Video Planner
This sheet consists of weekly slots fro Monday to Sunday. 52 slots, one for each week.
Firstly, insert the start date. As soon as you enter it, the template automatically fetches the remaining dates for the whole preceding year and their respective weekdays.
Ensure that the date you wish to enter must start on Monday. This will display the weeks in a proper manner that is starting on Monday and ending on Sunday.
For example, the year 2019 starts on Tuesday. Thus, insert 31/12/2018 as the first date as it starts on Monday.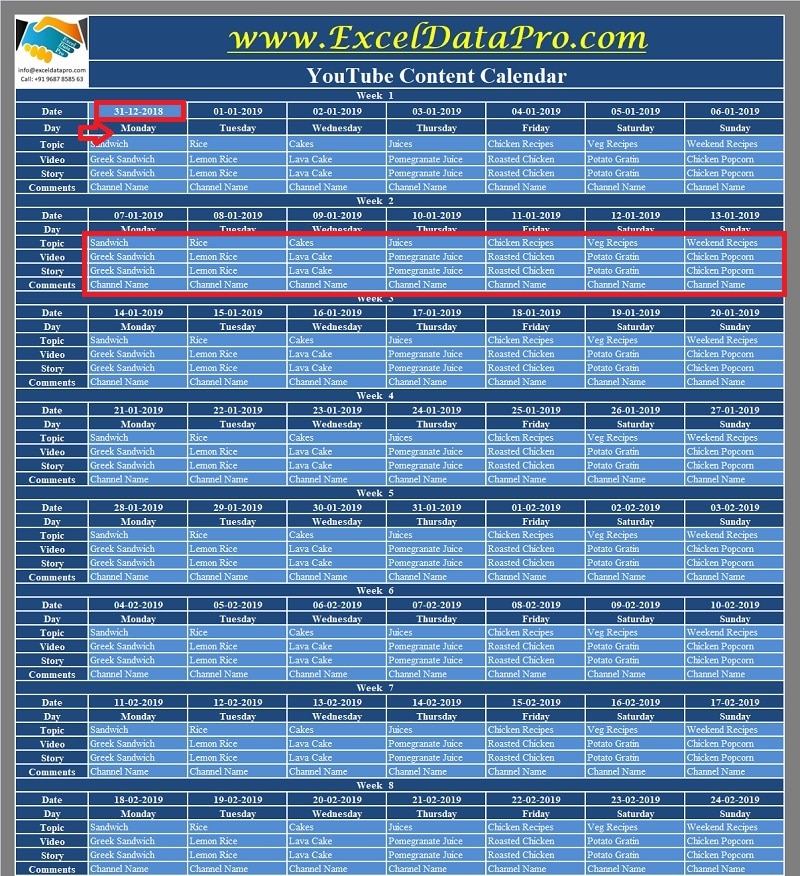 It consists of the following heads:
Topic: Topic of the video you want to post on that particular day. Example: If you are in the food industry then you can choose to post Sandwich on that particular day.
Video: Write the title of the video you want to upload or publish on that particular day. Example: Greek Sandwich Recipe.
Story: You can also put a specific story each day on youtube. Hence, use this in a better way to promote your current as well as old content.
Comments: Comments on other's channels make a great difference. So name the channel/channels you need to comment on each day. This will help you get exposure in the same industry.
Many creators on youtube tend to post multiple times a day especially in the food industry. Hence write multiple topics, multiple video titles and multiple channel names according to your needs.
For this purpose insert a row to add other topics, video titles. You also need to program the formula in the content summary sheet. If you have any issues doing it you can contact us and we will be more than happy to help.
This way you can swiftly plan your Youtube content calendar.
Content Summary
To get an overview of your posting frequency of every month, we have created a content summary.
In this sheet, you don't require to enter or update anything. It gets auto-populated according to the entries made in Video Planner.
4 weeks in one to create a month. It displays the number of posts made in that duration.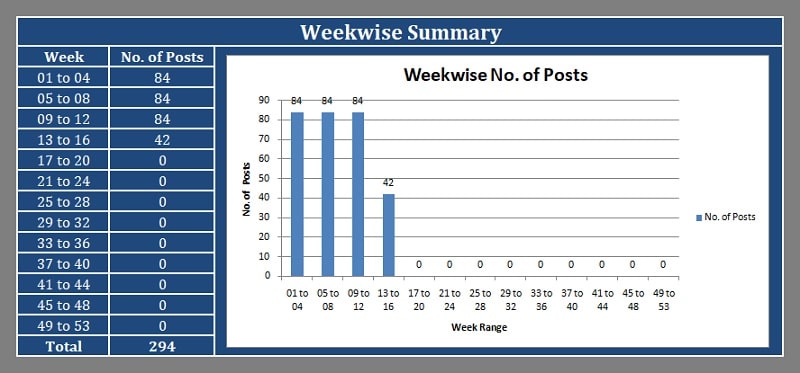 Additionally, it also represents the data in a graphical format for the number of posts made during that period.
Tips to Grow Your YouTube Channel
Preplan your calendar. Always work in advance.
Post to multiple times per-day or per-week depending on your niche.
Develop a feasible video production workflow.
Design proper thumbnails.
Each video must have an interesting hook to grip your audience.
Titles and opening credits should be short.
Always add end screens that will help you promote other videos.
If there are any long pauses or distractions in the video, please edit and eliminate them.
Replicate topics or tactics from top-performing videos/channels in your niche.
Create longer videos that will help you improve your watch time.
Collaborate with other famous YouTubers in your industry.
We thank our readers for liking, sharing and following us on different social media platforms.
If you have any queries please share in the comment section below. We will be more than happy to assist you.