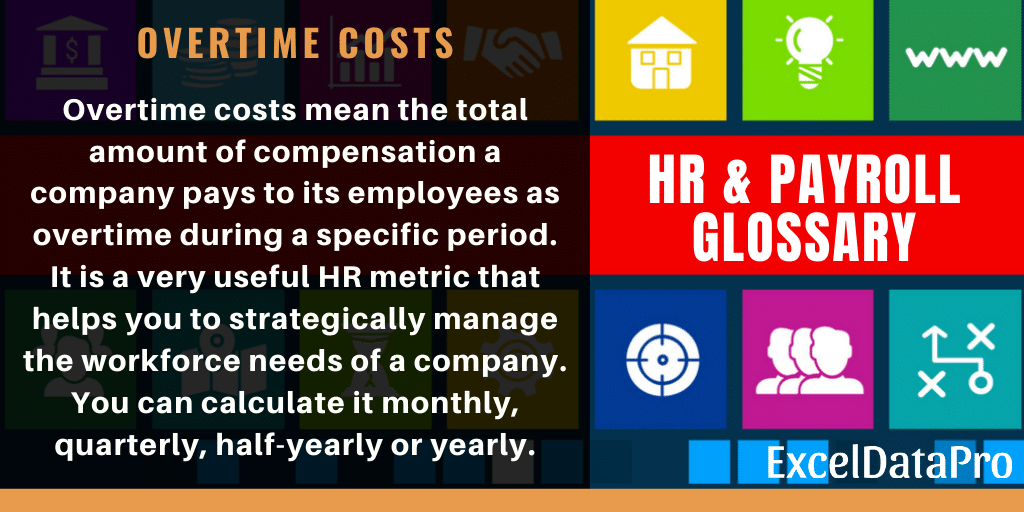 Overtime Costs – Definition
Overtime costs mean the total amount of compensation a company pays to its employees as overtime during a specific period.
It is a very useful HR metric that helps you to strategically manage the workforce needs of a company. You can calculate it monthly, quarterly, half-yearly or yearly.
As per the experts, calculating overtime expenses on a yearly basis is the best way and provides proper figures. The reason is that while calculating yearly, it includes both peak and low seasons of the business.
Formula To Calculate Overtime Costs
To calculate Overtime Cost, multiply Overtime Hours With Overtime Hourly Rate.

If your employees are salaried, you first need to calculate their hourly rate by dividing monthly salary by total hours worked and then multiply the rate with 1.5 times.
How Calculating Overtime Expenses Helps Businesses?
Analyzing overtime costs is an important thing that helps to determine when and where to hire new employees. This metric is more applicable to labor-intensive industries.  Moreover, it helps to improve efficiency in operations, labor costs, and productivity.
You need to look closely at the costs of overtime in comparison with the costs of hiring new employees. All you need to do is compare Fixed Costs of Hiring an Employee Vs  Costs of Paying Overtime.
If your overtime expenses are too higher than recruiting a temporary employee or an additional FTE then it is feasible to hire a new employee.
Many times, employees delay work to gain some extra money. managing and analyzing overtime helps you cust costs.
Usually, employers use overtime to cover loss of productivity due to absenteeism or increase productivity in times o high supply.
Strategically, determine how you will use your workforce properly to meet production demands to fulfill large orders.
In companies where overtime is mandatory and an employee has to work more. They become frustrated and hence increase the turnover rate. They need time for rest and for household activities.
Don't use overtime hours as a quick fix to handle last-minute orders. using it properly can help you manage costs and increase productivity.
Furthermore, using this metric team-wise helps managing teams properly. Hiring temporary staff to help with the additional workload is more cost-efficient.
We thank our readers for liking, sharing and following us on different social media platforms.
If you have any queries please share in the comment section below. We will be more than happy to assist you.