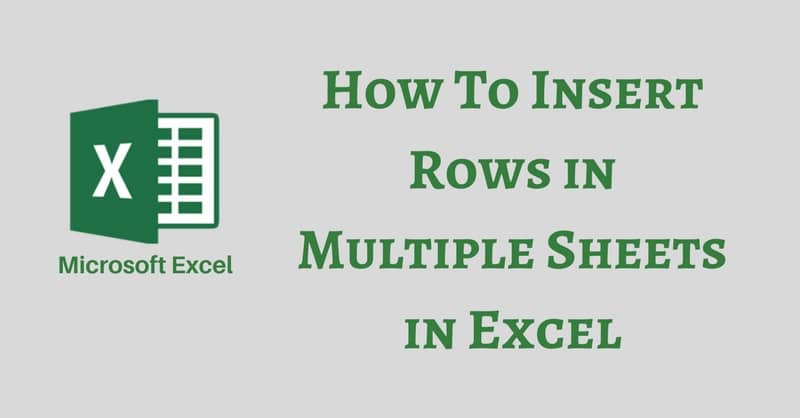 In Excel, it is possible to insert rows in multiple sheets all at once. You don't need to edit or insert the rows individually to every sheet. If there are multiple sheets, this becomes a tedious job.
Thus, we need to find an easy way to do this action.
You can insert rows in multiple sheets simultaneously by grouping the worksheets.
To group sheets, you just need to press CTRL key and select the sheets that you want to insert rows in.
Let us understand it with a simple example.
We have a school workbook with data of 55 classes. In which we have a class strength of 25 students.
The strength has increased by 10 students. Thus, we now need to enter 10 rows in all 50 sheets.
We can do it either manually going to all sheets and inserting rows or we do some smart work and find an easy way.
Grouping and Inserting Rows in multiple sheets?
Grouping sheet is merely a 2 step process:
1. Open a workbook. By default, it has three sheets. If you want more you can insert more sheets according to your requirement.

2. Press CTRL key and select the sheet you want to group.
Your sheets are now grouped. The changes made to one will replicate into other group sheets.
Select the row and right click the mouse to insert a row.
As you insert any row in any worksheet it gets added to other group worksheets.
Note: Don't forget to ungroup the sheet after you have finished adding rows. Not doing so will affect all data input to all the group sheets.
To learn other function like CUMPRINC, ACCRINTM and PRODUCT Functions, please click on the name of the function.
Additionally, you can download other accounting templates like Petty Cash Book, Simple Cash Book and Accounts Payable Excel Templates from here.
We thank our readers for liking, sharing and following us on different social media platforms.
If you have any queries please share in the comment section below. I will be more than happy to assist you.