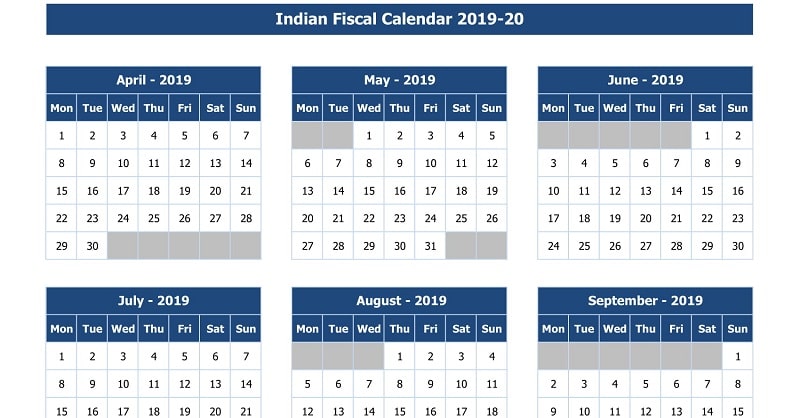 Indian Fiscal Calendar 2019-20 excel template consists of 3 color variations and available 3 forms; images, printable pdf, and excel. These templates are free t0 download and ready-to-use.
Before we proceed further to the contents of the template let us understand a few terms that are related to this template.
What does Fiscal mean?
In general, the term fiscal means related to finance is called fiscal. The term also fiscal stands for financial matters relating to government revenues such as taxes, annual fees etc.
What is the Fiscal Calendar?
As per Wiki;
A fiscal year (or financial year, or sometimes budget year) is the period used by governments for accounting and budget purposes, which varies between countries. It is also used for financial reporting by business and other organizations.
Different countries have a different fiscal calendar. In this article, we will discuss the Indian Fiscal Calendar 2019-20 excel template.
In India, the fiscal year starts from 1st April and ends on 31st March. Fiscal calendar in the United Kingdom(UK), Canada, Hong Kong, Japan, Singapore, and South Africa is also from April to March.
Let us discuss the contents of the template in detail.
Indian Fiscal Calendar 2019-20 Excel Template
We have created a simple and ready-to-use Indian Fiscal Calendar excel template with three color variations. It consists of free excel template along with downloadable pdf and images.
Click here to download Indian Fiscal Calendar Excel Template
Furthermore, you can also download our 100 Years Calendar from the link below:
100 Years Excel Calendar Template
Contents of Indian Fiscal Calendar 2019-20
This template consists of 3 sheets for the Indian Fiscal Calendar;
Colored
Black & White
Ink Saver
 1. Colored – Fiscal Calendar 2019-20
Plain variation is a simple fiscal calendar with the week starting on Monday. It displays all 12 months from April 2019 to March 2020 in one sheet and can be easily printed on A4.
This template is made in a blue color scheme. It is considered as a professional color. You can customize the colors according to your needs. To do so follow the steps below:
Go to Home Tab ==> Font ==> Font Color or Fill Color.
 2. Black & White – Fiscal Calendar 2019-20
Black & White color scheme is a generic color scheme acceptable by everyone as it saves money. The prints of Black & White cost you less than as compared to colored prints.
Similar to the colored file, this file also consists 12 months starting from April 2019 to March 2020 and week starting on Monday.
 3. Ink Saver – Fiscal Calendar 2019-20
The last sheet is made in Ink Saver color scheme. This is more cost effective even than the Black & White scheme. As it has the least colors and more copies can be printed.
This file also consists of the same 12 months as the Black & White and Colored File.
Please Note: Japan, Hong Kong, Singapore, UK, and Canada have the same fiscal year as India. Thus, these templates can be used for all these countries also.
Download Printable Calendar PDFs and Images of Calendar 2019 by clicking the button below:
We thank our readers for liking, sharing and following us on various social media platforms.
If you have any queries or suggestions, please share in the comment section below. We will be more than happy to assist you.