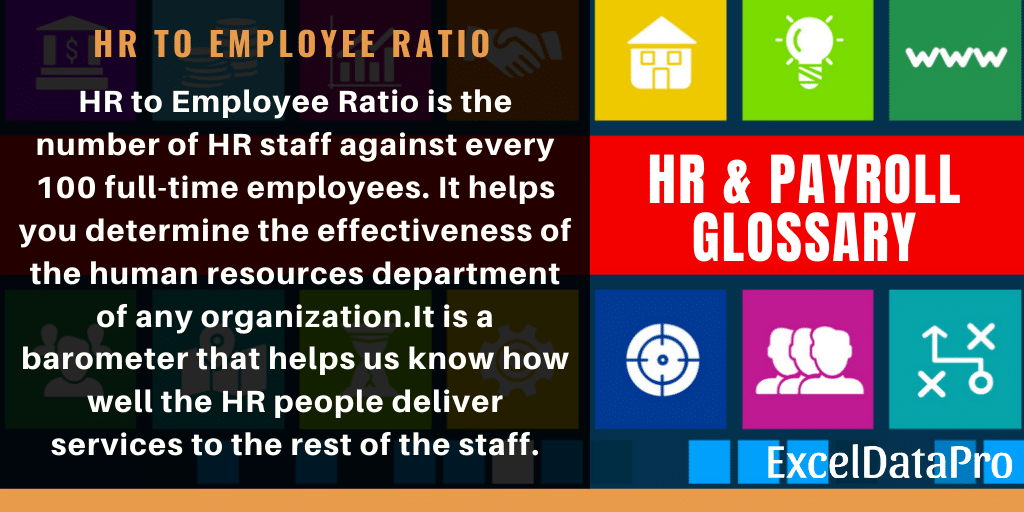 HR To Employee Ratio – Definition
HR to Employee Ratio is the number of HR staff against every 100 full-time employees. It helps you determine the effectiveness of the human resources department of any organization.
It is a barometer that helps us know how well the HR people deliver services to the rest of the staff.
This ratio differs based on two major factors:
Size of the organization.
Industry
Usually, smaller organizations have higher HR staffing ratios whereas large organizations have a lower HR-to-employee ratio due to automation and other economic factors.
Labor-intensive businesses like production units have higher staffing ratios than talent-intensive businesses. Thus, Industry also is a major factor in HR to Employee Ratio.
Formula To Calculate HR To Employee Ratio
To calculate HR to Employee ratio by divide the number of HR employees(FTEs) by the total number of FTEs company and multiply it by 100.
FTE stands for Full-Time Equivalents. Please make sure you convert the part-time employees into full-time equivalent employees.
Usually, an FTE 2080 hours a year. Hence, to convert the part-time employees to FTEs, the template applies the following formula:
Part-time employees X Weekly Hours X 52 Weeks divided by 2080 hours.

Examples
Let us understand this ratio with some examples.
Small/Medium Size Company
Company Name: ABC
HR FTE Count: 1
FTE Count: 45
Part-Time Count: 15 (16 hours a week)
First, convert your part-time employees to FTE count. Multiply hours of 15 part-time employees with 16 and then multiply them with 52 weeks. Divide the result with 2080 hours to get the FTE count.
Thus, 15 X 16 X 52 = 12480 hours. Now, 12480/2080 gives you 6 FTEs.
Add these 6 employees to your FTE Count 45 + 6 = 51 FTEs.
Applying the above-given formula, (1/51) X 100 = 1.96.
Large Size Company
Company Name: XYZ
HR FTE Count: 5
FTE Count: 1100
In this example as there are no part-time employees.
Hence, applying the formula, (5/1100) X 100 =0.45.
Uses of HR To Employee Ratio
Companies use the HR-to-employee ratio to increase or decrease the HR staff according to the requirement.
It helps the organization and especially the management to make important staffing decisions.
It is helpful in comparing with other organizations of similar size to evaluate whether your HR department is understaffed or overstaffed.
You can download ready-to-use HR To Employee Ratio Calculator Excel Template with predefined formulas.
We thank our readers for liking, sharing and following us on different social media platforms.
If you have any queries please share in the comment section below. We will be more than happy to assist you.