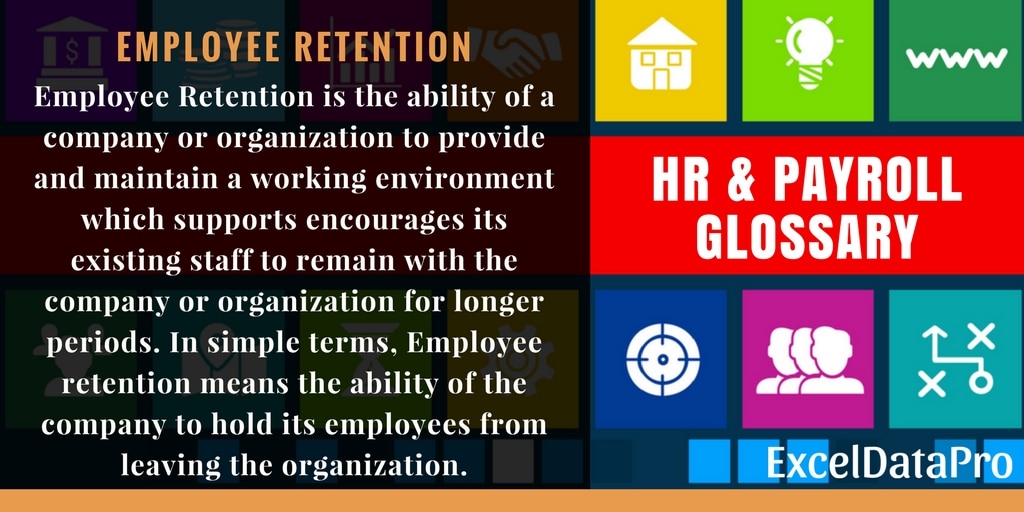 Definition – Employee Retention
Employee Retention is the ability of a company or organization to provide and maintain a working environment which supports encourages its existing staff to remain with the company or organization for longer periods. In simple terms, Employee retention means the ability of the company to hold its employees from leaving the organization.
Higher the rate of employee retention rate the better for any organization and the higher the Employee Attrition it is bad for any organization.
Usually, we see that some companies have better organizational policies designed which holds the employee from leaving it.
It can be many things, family health cards, vehicles, accommodations, reimbursements, skill development programs, educational assistance programs, dependents tuition fees etc. These things play an important role in employee retention.
Just opposite to this, those companies that do not have such encouraging policies face a lower retention rate. As a result, the cost of recruitment increases on such companies.
Pros of Employee Retention
Every company spends much on attracting the best talent in their respective industry and good employees are wanted all the time. These loyal and performing employees make a good contribution to the overall success of the company.
The longer the employee stays in a company perform well and thus become an integral part of the organization. Such employees usually help the organization to beat its competitors.
Such employees attract other good employees of the competitors and add to the workforce of your organization.
Cons of Lower Employee Retention
Think that due to lack of good strategies and policies that encourage them to stay and they leave the organization. In addition to that, they join your competitors. You can imagine the adverse effects of it.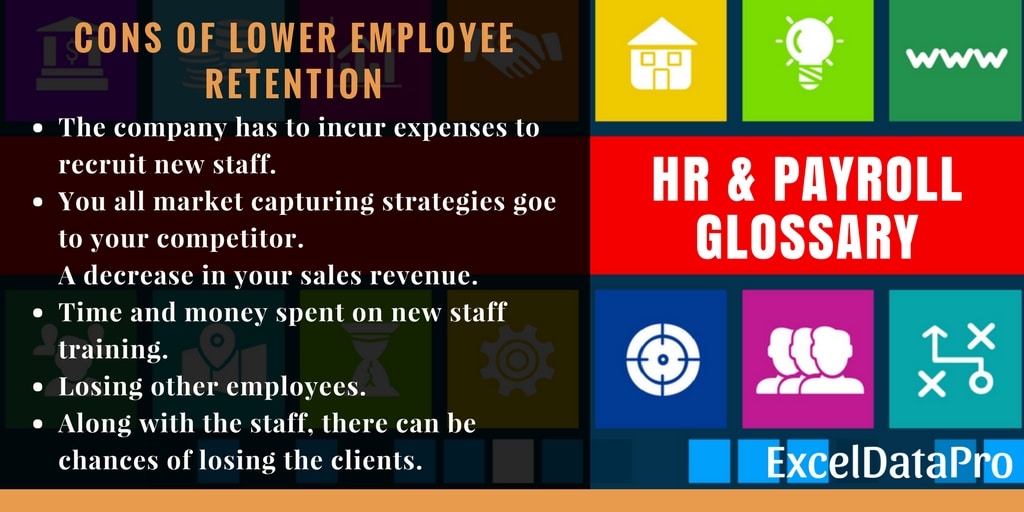 To keep an eye on the employee retention, HR department heads make Attrition Reports on a quarterly, bi-yearly or yearly basis to know the rate of attrition.
You can download the Employee Attrition Report in Excel as well as Apple Numbers from the link given below. This report helps them to design policies to reduce the rates and help them in retaining the employees.
Employee Attrition Report Excel Template
Attrition Report Apple Number Template
In addition to the above, you can also download other HR templates like Salary Sheet, Weekly Timesheet, Employee Attendance Sheet and much more.
Disclaimer: Interpretation of the above topic is for education purpose and cannot be considered as a legal advice. It is highly recommendable to consult certified Human Resource Professionals for your exclusive case.
We thank our readers for liking, sharing and following us on different social media platforms.
If you have any queries please share in the comment section below. I will be more than happy to assist you.