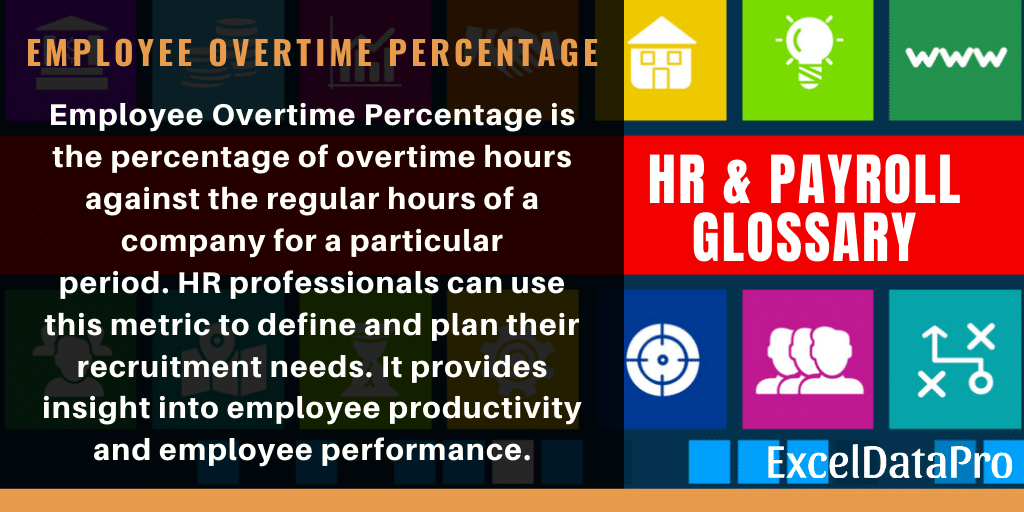 Employee Overtime Percentage – Definition
Employee Overtime Percentage is the percentage of overtime hours against the regular hours of a company for a particular period.
HR professionals can use this metric to define and plan their recruitment needs. It provides insight into employee productivity and employee performance.
Generally, A higher Overtime percentage indicates low productivity, bad workforce management, and employee dissatisfaction. Studies prove that employees who work more overtime their productivity decreases.
Moreover, higher overtime pays are a burden to the company's pockets due to high turnover rates, a decrease in revenue, recruitment costs, etc.
Furthermore, it also helps to curb unnecessary overtime taken by employees to increase their pays and unnecessary delaying output.
Formula To Calculate Employee Overtime Percentage
To calculate overtime percentage divide total overtime hours by total regular hours and multiply it result with 100.

Let us understand it with an example.
Company Overtime Percentage
Company: ABC Ltd.
Total FTEs: 15.
Duration: 1 Year.
Total Regular Hours: Regular Hours X Total FTEs = 15 FTEs X 40 hours per week X 52 weeks = 31200 hours.
Total Overtime Hours: 3200 hours.
Applying the above-given formula:
= 3200 / 31200 X 100 = 10.26 %.
Individual Overtime Percentage
Employee: Mr. Ajay.
Duration: 1 Year.
Total Regular Hours: Regular Hours X Total FTEs = 40 X 52 X 1 = 2080 hours.
Total Overtime Hours: 126 hours.
Applying the above-given formula:
= 126 / 2080 X 100 = 6.06 %.
Tips to Decrease Overtime Percentage
Follow thee tips to decrease overtime percentage in your company:
Evaluate Overtime Costs against recruiting costs and plan your workforce management strategies.
Measure output.
Don't keep overtime mandatory, this helps lower turnover costs.
Reward properly to employees in case of mandatory overtime.
Plan your projects effectively considering every aspect.
Distribute and manage the workforce properly according to the requirement and taking employee efficiency into account.
Recruit a temporary workforce when workloads are higher due to peak seasons or bigger orders.
Thus, employee overtime percentage can be a useful metric in decreasing the burden on a company's treasury.
We thank our readers for liking, sharing and following us on different social media platforms.
If you have any queries please share in the comment section below. We will be more than happy to assist you.