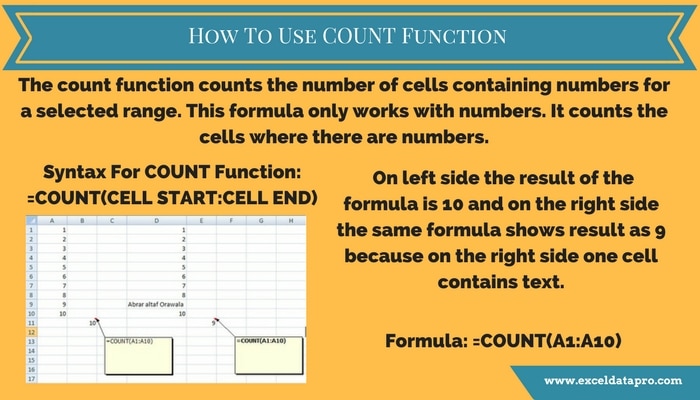 COUNT function only counts the cells that contain numbers in a selected range. It will not count cells that have anything other than numbers.
This function doesn't count cells containing any text including error values and empty text ("").
In other words, if you want to count cells that contain text and numbers, you can use the COUNTA function.
If you want to count only cells that meet certain criteria, use the COUNTIF function or the COUNTIFS function.
Syntax for COUNT Function
=COUNT(Range of Cell)
We have created the infographics for OR function. This is a step by step process to for learning excel functions easily.
Excel consists of many inbuilt functions which are helpful in the analytical and statistical study of number.
Simply follow the instructions given in the image below: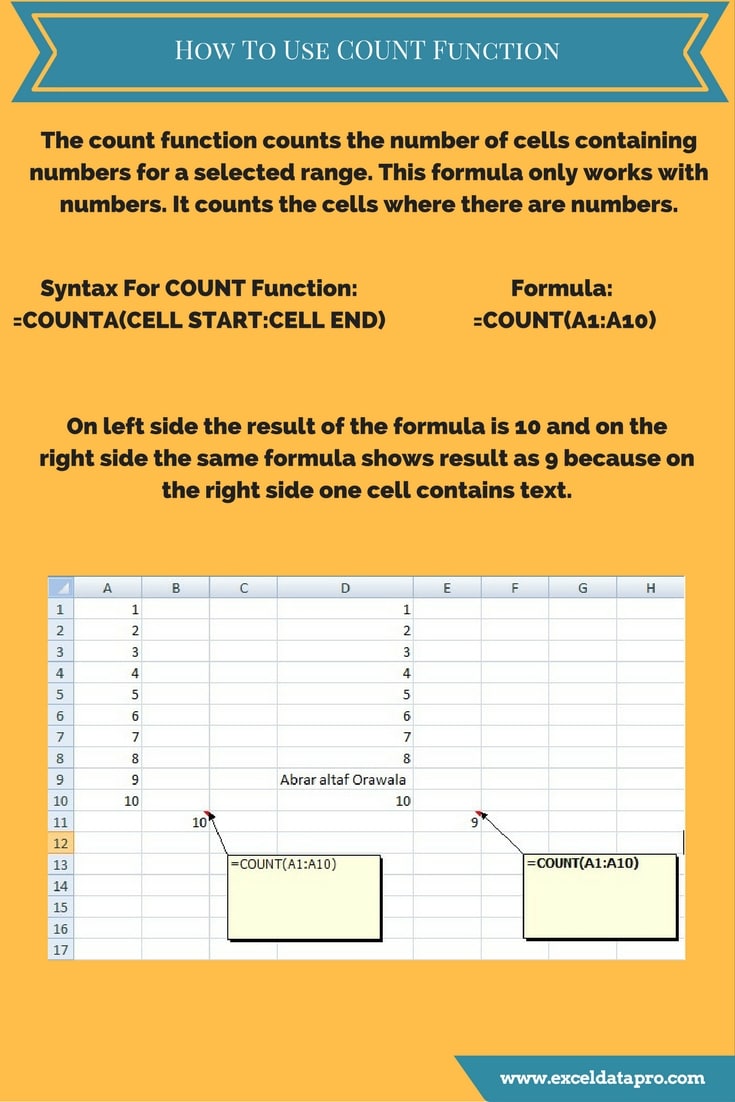 Let us use COUNT function with an example.
Write down numbers from 1 to 10 in two different columns on your spreadsheet. In the second column with numbers put a text in between deleting any one number and use COUNT function selecting the whole range.
The count is 10 when there are only numbers. But on the other hand, where we inserted the text it shows the count as 9.
COUNT function does not include the cells with text.
Formula applied here is =COUNT(A1:A1O)
Thus, the only cells that the COUNT function does not count are absolutely empty cells. If you want to count the blank cells for a given range you need to use COUNTBLANK function.
To learn How to use COUNTIF to Compare two data sets click the link below:
How To Use COUNTIF() To Compare Two Data Sets?
You can also find downloadable templates for accounting process like Salary Sheet Template, Work Schedule Template and Inventory Management Template.
We thank our readers for liking, sharing and following us on different social media platforms.
If you have any queries please share in the comment section below. I will be more than happy to assist you.