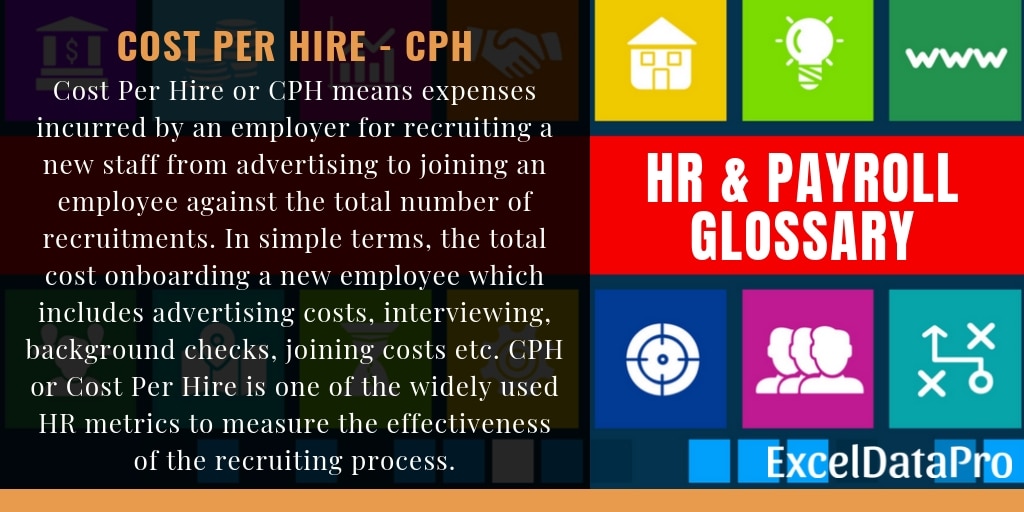 Cost Per Hire – Definition
Cost Per Hire or CPH means expenses incurred by an employer for recruiting a new staff from advertising to joining an employee against the total number of recruitments. It is the average money spent on hiring an employee.
In simple terms, the total cost onboarding a new employee which includes advertising costs, interviewing, background checks, joining costs etc.
CPH or Cost Per Hire is one of the widely used HR metrics to measure the effectiveness of the recruiting process.
Formula To Calculate Cost Per Hire?
This metric is derived by adding direct recruiting expenses and Indirect recruiting expenses divided by the total number of employees recruited during a specific period.

What are Direct Recruiting Expenses?
Direct recruiting costs are related to the company. They include:
Salaries of recruiting staff
Expenses incurred by recruiting staff
Premises Rent
Candidate background checks
Reference checks
Food
Administrative Expenses.
The above list may include other expenses depending upon the size of the company and their recruiting process.
What Indirect Expenses?
Indirect Recruiting Expenses are expenses paid outside the company to advertising agencies or recruiting agencies etc. These include:
Recruiter Fees
Advertising costs
Career Fair Expenses
Job board postings
We have created a Cost per Hire Calculator excel template. Just add your details and it will automatically calculate the Cost per Hire for you.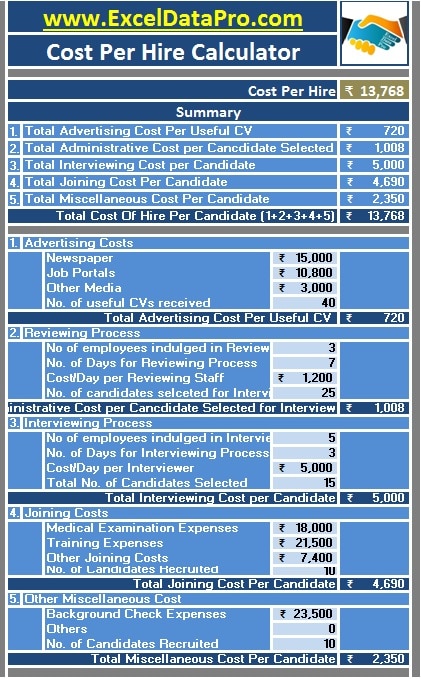 Click here to Download the Cost Per Hire Calculator Excel Template.
Pros – Cost Per Hire
To know the efficiency of your recruiting process.
Helps to identify loops in the recruiting process and rectify them.
Creating and preparing the recruiting budgets.
Tracking and your Recruiting Costs.
Cons – Cost Per Hire
Reducing the cost of hire is good but the quality of the hire should not be compromised.
The CPH provides the quantitative figures of the spent and not the quality.
Ways To Reduce CPH without affecting the Quality
Digitalization/Automation of recruitment process
Acquiring candidates through internal employee network and providing your own employees with incentives for the talent hunt.
Participating in Job Fairs even if you don't have any job openings. This will help get candidates who are looking for jobs in the market in your industry and you can contact them as and when required.
Outsourcing the recruitment process to job agencies or consultants. This helps to reduce cost as such organizations have a great inflow of candidates and chances are there to get better talent from the market.
In addition to the above, you can also download Excel templates in other categories like HR and Payroll, Financial Analysis, Financial Statements, etc
We thank our readers for liking, sharing and following us on different social media platforms.
If you have any queries or suggestions please share in the comment section below. I will be more than happy to assist you.