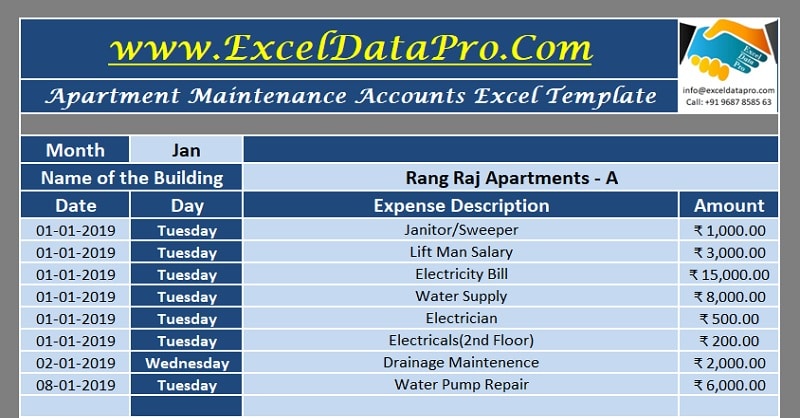 Apartment Maintenance Accounts is a ready-to-use excel template that helps you manage the collection and expenses of a building for a complete year.
This template helps you maintain record flat-wise collection of maintenance amount from flat holders for a complete year. Additionally, it also helps to keep a record of monthly expenses of building maintenance for a complete year.
It is necessary to keep a record of the routine expenses made by the society heads to maintain cleanliness and smooth running of services like drainage, janitor, elevators, etc.
Many people keep their records manually in books. it is a time-consuming process. Many times, a problem arises when such books are lost.
This template helps you to simplify the process and keep collection and disbursement records, all in one file.
Apartment Maintenance Accounts Excel Template
We have created a simple and easy Apartment Maintenance Accounts in Excel to keep track of your collection and disbursements.
Click here to download the Apartment Maintenance Accounts Excel Template.
You can download other templates like Savings Goal Tracker ROCE Calculator, ROE Calculator With Dupont Analysis, Portfolio Analysis With BSE Bhav Copy, Income Tax Calculator FY 2018-19 and Loan Amortization Template.
Let us discuss the contents of the template in detail.
Contents of Apartment Maintenance Accounts Excel Template
This template consists of 2 sheets:
Apartment Maintenance Accounts
Maintenance Collection Sheet.
Apartment Maintenance Accounts
When you handle a building's maintenance, it is really tough to manage all the things in one place and if something goes missing, it a great threat to your goodwill.
Every month there are recurring expenses like electricity, drainage, repairs, etc. This template helps you record maintenance expenses month-wise.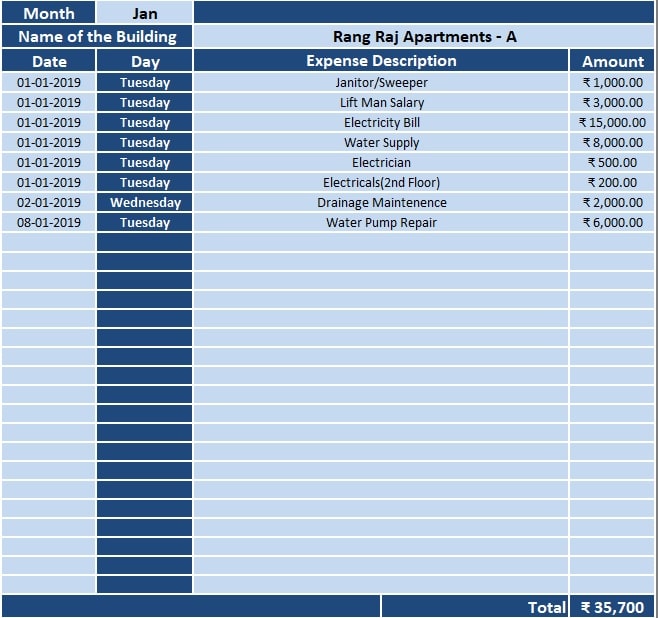 You just need to enter the date. The weekday will be auto fetched as it contains a formula. Enter the description o the expense description and the respective amount.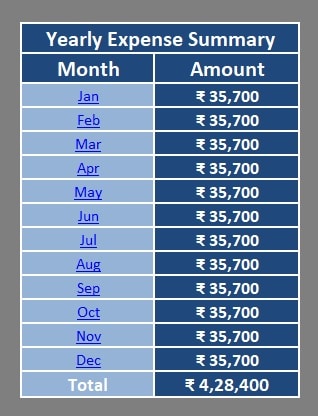 Once you are done with the first month, You can navigate to another month by using the links given on the right side of the template. With just a click on the link, you can navigate to any month.
Additionally, the navigation table also displays the total expenses for each month. You don't need to scroll all the way down to see the totals.
Maintenance Collection Sheet
To pay for the maintenance expenses you also need to collect the maintenance amount from the flat holders. In this sheet, you can record a flat-wise and month-wise collection of maintenance amount.
First, you need to enter the maintenance per month amount and it will automatically calculate the yearly amount.
In the first column enter the flat number, in second enter the flat holder name and enter the amount month-wise or as collected in the sheet.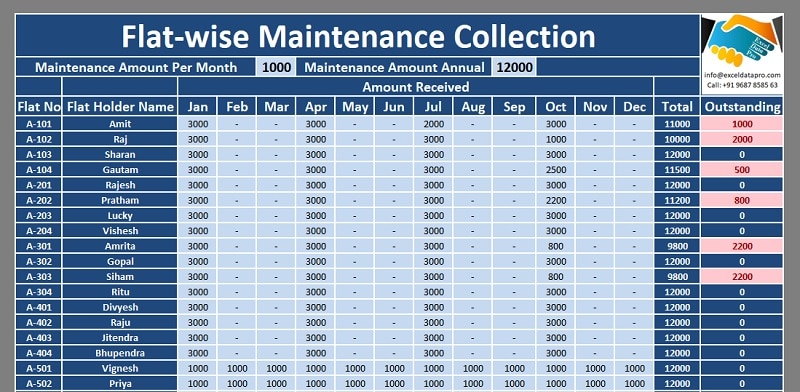 In the end, it shows the column total of the maintenance collection in that particular month.
Furthermore, it also displays the yearly maintenance received from the flat holder. Apart from that, it shows the outstanding amount against each flat. The cell having any outstanding amount will turn red.
With this template, you can easily manage your apartment maintenance.
We thank our readers for liking, sharing and following us on different social media platforms.
If you have any queries please share in the comment section below. We will be more than happy to assist you.