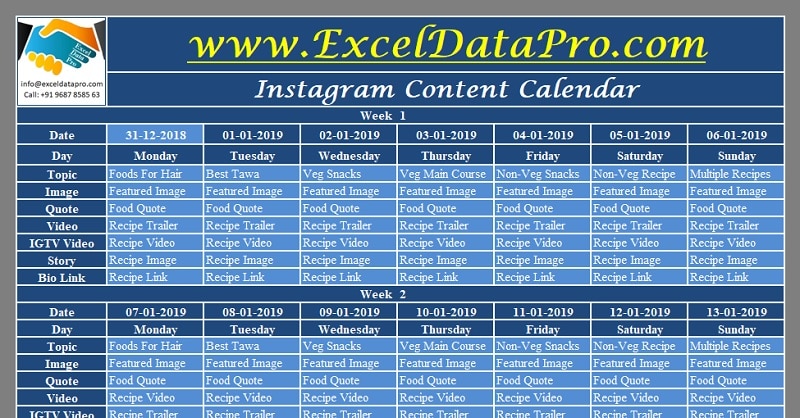 Instagram Content Calendar is a ready-to-use excel template to design a week-wise Instagram posting Calendar for all 52 weeks of a year.
Instagram has become quite popular. Proper planning and execution of the social media calendar can help you gain popularity/sales from Instagram.
You need to plan your calendar. You must be specific about what to post, what time to post, which hashtags to use, whom to tag in your post.
This template can be helpful to plan and execute week-wise Instagram content for a complete year.
If you are a blogger or a small business owner, you might be doing all the tasks by yourself. Having limited time and resources makes it difficult to manage your social media presence.
If you have a pre-planned calendar, you can manage to hire some freelancers or virtual assistants to do execute the posting work at very nominal charges.
Instagram Content Calendar Excel Template
We have created an Instagram Content Calendar that can help you plan a week-wise posting calendar for a complete year. It enables you to keep your social media presence on a consistent and timely basis.
Click here to download the Instagram Content Calendar Excel Template.
Click here to Download All Social Media Marketing Excel Templates for Rs 199.
You can download other social media templates like Facebook Content Calendar, Social Media Content Calendar, and Editorial Blogging Schedule.
Let us discuss the contents of the template in detail.
Contents of Instagram Content Calendar Excel Template
This template consists of 2 sheets:
Weekly Instagram Content Calendar
Content Summary
Weekly Instagram Content Calendar
The first sheet consists of 52 weekly calendars.
All you need to do is, insert the start date in the first light blue cell and it automatically fetches the remaining dates along with the respective day.
The cell uses the TEXT Function to fetch the day and the formula has been predefined in the cell. Make sure you insert the date of the year starting on Monday.
For example, we have inserted the first date as of 31/12/2018 because it starts with Monday.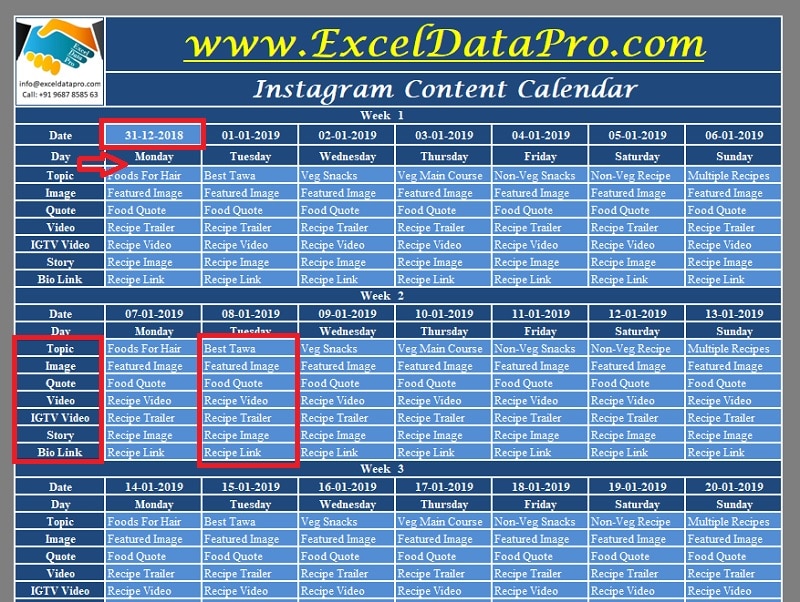 Content Types
You can plan your calendar for each day for multiple types of content like a story, videos, quotes, etc. The template consists of following rows:
Topic: Topic is the subject on which you plan to post on that particular day. It can be your event, the subject of your blog, etc.
Given the example for a food blog, The first day's topic is Food for Hair and the second one is Best Tawa and so on. Insert the topic that you want to post on that particular day.
Image: Instagram is an image-based platform. Enter the description of the image you post. For example, Recipe image as in the case of a food blog.
Quote: If you are planning to post a quote image, then insert the description in this cell on that respective date. Example: Food Quotes
Video: You can upload small videos on Instagram such as trailers or short films up to 1 minute. Enter the title/topic of the video you need to post. Example: Recipe Trailer
IGTV Video: To upload longer length videos you can upload on IGTV. Insert the title of the video in this cell. Example: Full recipe video
Story: Enter the title or description of the image. It can be your own, other's image or video trailers, etc.
Bio-Link: No direct link is allowed on Instagram until you have 10k followers. To get traffic from Instagram, you can insert a new link every day to your bio to keep your followers updated about your content. Example: Recipe Link of the same video that you have posted.
This calendar planning and execution will help you get more out of your Instagram Account.
Content Summary
This sheet is auto-populated and hence doesn't require any entry. Auto-updated according to the data you have entered in the Weekly Instagram Content Calendar.
It sheet displays a summary of all 52 weeks by each of 4 weeks each that is approximately a month. It displays the number of posts made every 4 weeks.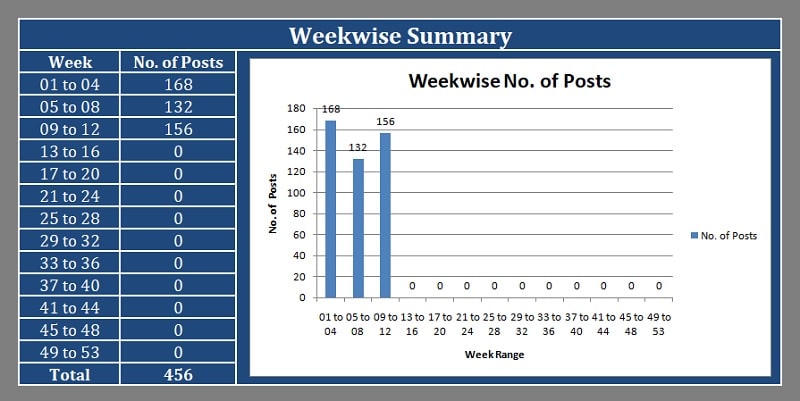 Additionally, it represents the summary of posts in a graphical format to visually understand the amount of posting done during that particular period.
20+ Tips For Instagram Posting
Your profile image should convey what you do.
Use proper image dimensions.
Choose a unique representation of your post so that it intrigues people to see and stop by.
Study the times of your audience when they are most active to get the perfect response.
Use perfect hashtags.
Research about special hashtags that can help you get a good response. Example: #L4L means "Like for Like"
Put hashtags at the end of the post.
Save time keeping common hashtag list on your phone or system in notepad or notes.
Add your business name as a hashtag.
Post quality content.
Create posts with a  call to action. Example: Visit the link or Learn More.
Tag similar people in your industry.
Timely respond to the comments.
Research about people making an influence in your niche. Find things you can work with them on.
Similar to blogging, set up a content calendar.
Allocate time to curate images, captions, and hashtags
Keep an eye on insights to know what is working and whatnot. Change your strategy or type of content accordingly.
If you have a budget, spend some on Instagram ads to increase visibility.
Keep an Instagram feed on your website/blog.
Update your story at least once a day or multiple times a day if possible.
Provide value-based content. It should be helpful to others and intriguing.
Customize the calendar to best suit your business. Do some research about types of content, timings and also your target audience.
We thank our readers for liking, sharing and following us on different social media platforms.
If you have any queries please share in the comment section below. We will be more than happy to assist you.