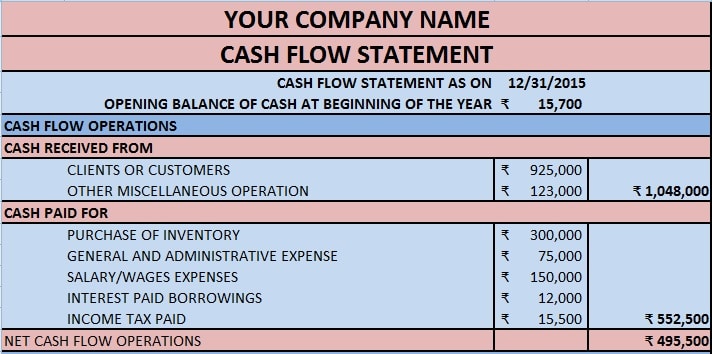 Cash Flow Statement is a financial statement that reports the cash generated and spent during a specific time interval by any company. It is one of the main financial statements.
In other words, this statement allows you to understand how your company operations run. It gives you an overview of where the money is coming from, and how it is being spent.
Reviewing this helps companies in taking crucial and big economic decisions.
You can decide the period for this statement. It can be either monthly, quarterly, half-yearly or yearly. It can be more in some cases as per the requirement.
Cash Flow Statement Excel Template
I have created a simple and easy to use Cash Flow Statement. Just entering data will give you an overview of your company's cash flows.
Click here to Download Cash Flow Statement Excel Template.
Click here to Download All Financial Statement Excel Templates for Rs 199.

Apart from that, you can also download other Financial templates from our websites like Bank Reconciliation Statement and Trial Balance, Balance Sheet, etc.
Let's discuss the Cash Flow Statement in detail.
Contents of Cash Flow Statement
This statement consists of two sections:
Heading Section
Data Input Section
1. Header Section
The header section contains the details like Name of the Company, Heading "Cash Flow Statement".
The second row contains the date on which the Cash Flow Statement and Opening Balance of cash at the beginning of the period.

2. Data Input Section
This section includes cash flow from mainly 3 type activities which are as follow:
Operating activities
Investing activities and
Financial activities.
Operating activities are the principal revenue-producing activities of our company.
You can calculate Net Cash Flow from Operating deducting Operating expenses from operating incomes.
Operating expenses are salaries, income tax, etc and incomes include cash received from customers and other sources by our company.

Investing activities are the acquisition and disposal of long-term assets and other investments that are not included in cash equivalents.
Just as we did in Operating activities, Net Cash Flow from Investment can be calculated by deducting Investment expenses from Investment incomes.
Investment expenses like the purchase of property, Loans, etc and incomes like cash received from property sold, principal amounts of loan, etc are considered.

Financing activities are activities that result in changes in the size and composition of the owner's capital. The owner's capital includes preference share capital and borrowings.
Net Cash Flow from Financial is calculated by deducting financial expenses from financial Income.
These expenses include the repurchase of treasury stock, repayments, etc and Incomes include cash received against share issuance and borrowings done by the company.

In the end, the Closing Balance of Cash is given.
Conclusion
Cash Flow Statements can bee used to predict future cash flow of companies.  This statement reflects the financial health of a company.
A cash flow statement tells you if you're running out of money even when you're profitable.
You can also see how your bank loan payments are affecting your cash.
Thus, it very important for a company to prepare and review Cash Flow Statements.
If you have any queries or questions, share them in the comments below and I will be more than happy to help you.