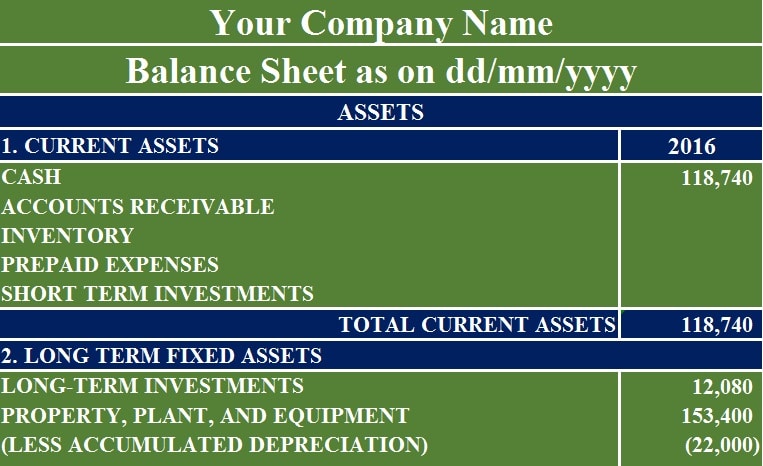 Balance Sheet Template is a financial statement of a company. It shows the assets, liabilities, equity capital, total debt, etc. at a given point of time.
For the balance sheet to reflect the true picture, both heads (liabilities & assets) should tally.
Thus, Assets = Liabilities + Equity.
A Balance sheet is a snapshot of the company's financial position at a specified time. Usually, the Balance Sheet is prepared after every quarter, six months or one year.
Balance Sheet Excel Template
I have created a Balance Sheet Template that summarizes the company's assets, liabilities, and equity. This will give your lender or investors an idea of the health of the company.
This template can be helpful to Accounts Assistants, Accountants, and Auditors, etc.
Click here to Download Balance Sheet Excel Template.
Click here to Download All Financial Statement Excel Templates for Rs 199.

You can also download other templates like Cash Flow Statement, Trial Balance and Profit and Loss Account.
Let's discuss the contents of the Balance Sheet Template.
Contents of Balance Sheet Template
This Balance Sheet Template has two main heads:
Asset and
Liabilities and
Owner's Equity
Let's understand each one of them in detail.
1. Asset
Assets are the resources or things that your company owns. Assets are further categorized as Current Assets and Long-term Assets.
An asset is anything tangible or intangible that is owned or held to have positive economic value.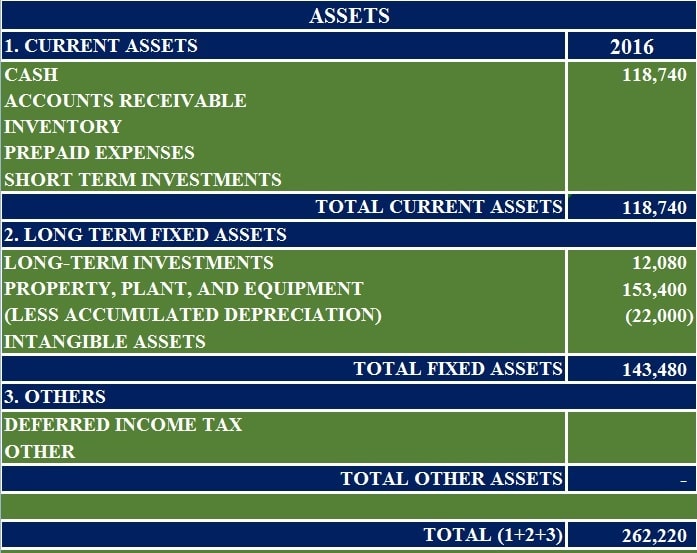 Cash on hand: All Cash including cash in hand + money in the bank.
Accounts Receivable: Receivable includes the total of your outstanding invoices. This does not include any invoices that are still in "draft" status.
Stock Inventory: Stock Inventory that your company holds for the ultimate purpose of resale. Sold items will not include in the Inventory.
Machinery or Equipment: Any Equipment/tangible items purchased for business usage. This equipment will not be bought for reselling.
Reimbursable expenses: Any reimbursable expenses that are already paid and will be reimbursed by another party.
You can customize the Assets section as required.
2. Liabilities
Liabilities on are debts or obligations to be paid by a company. It is the amount that the company owes to its creditors.
Liabilities include all payments to be made by your company. Thus any payable loans for your business accounts payable, unpaid credit card bills or unpaid taxes should be included.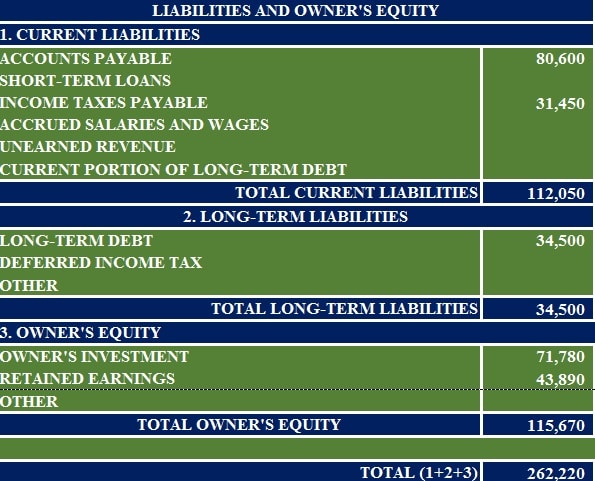 Accounts Payable: This includes money that you owe to other parties other than loans. An example of this would be any unpaid invoice for any service. It can be advertising, electricity, telephone bills, etc.
Taxes Payable: Unpaid Taxes that you owe the government.
Current Loans Payable: Loans from banks or investment from the investors that you have not paid back yet.
Long Term Loans Payable: The Long-term loans that are yet to be paid.
You can customize the Liabilities section as required.
3. Owner's Equity
Another very important head in the balance sheet is the owner's equity. Your assets should be equal to total liabilities and owners' equity.
We use the term Owner's equity when the company is a sole proprietorship. Shareholder's equity is used when it is a corporation.
In simple terms, the Owner's Equity is the claim on the assets of a business. Those Assets which remain after deducting liabilities.
Eventually, Equity includes opening investments, contributions, owner's capital or retained earnings.
Thus, Equity = Assets – Liabilities.
Owner's Capital: Capital is the owner's investment in the company. You need to add the net income earned by the company. Whereas deduct any withdrawals by the owner from it.
Note: The owner's bank account and the business bank account two are separate entities.
Retained earnings: Net income retained by the corporation and distributed to its owners as dividends.
In the end, we have included some financial ratios which can be helpful for further analytics.
Debt Ratio.
Current Ratio.
Working Capital.
Assets to Equity Ratio.
Debt to Equity Ratio.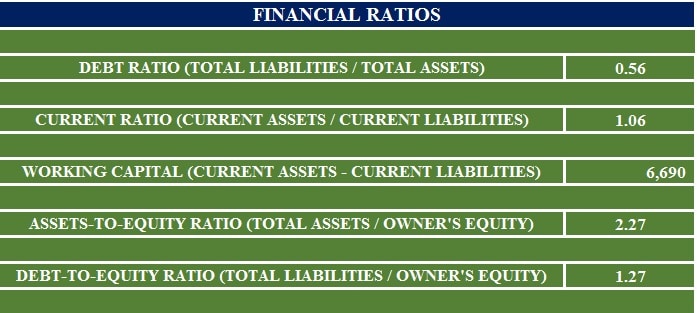 We thank our readers for liking, sharing and following us on different social media platforms, especially Facebook.
If you have any queries or questions, share them in the comments below. I will be more than happy to help you.