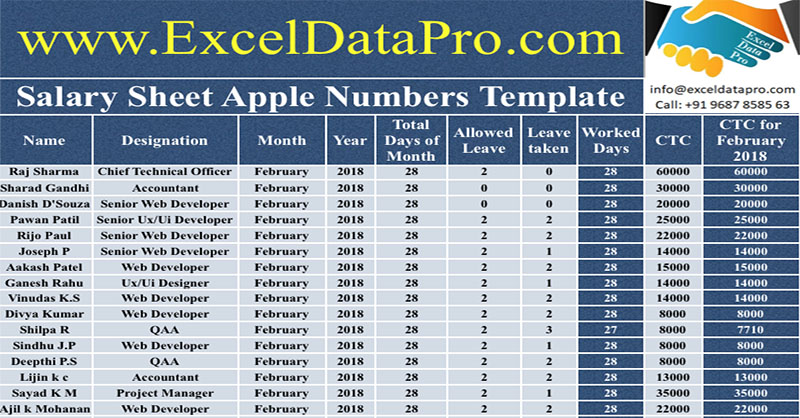 Salary Sheet Apple Numbers Template is an automated salary preparation kit made in Numbers. Using this Numbers template you can easily manage the data of your employees like leave, allowances, deductions and prepare Salary Slip every month within minutes.
Salary Sheet Apple Numbers Template is for those who use Mac operating system. This template can be useful to HR assistants, HR executives, owners of small firms etc.
Salary sheet is a Payroll or Human Resource document used to calculate salaries of employees working in a company. It is the need of every organization though it is big or small.
Preparation of salary includes leaves calculation, allowances, deductions, advance amounts and much more. Usually, it is a tedious kind of job and takes hours to fetch data of every employee.
Thus, to ease the tediousness of the work, we have created a simple and easy to use Salary Sheet Apple Numbers Template with predefined formulas.
Click here to download the Salary Sheet Apple Numbers Template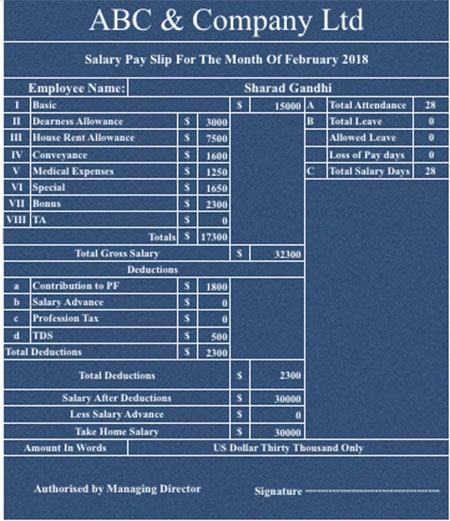 You can download the same in Excel from the link below:
In addition to the above, you can also download other HR templates like Employee Attendance Sheet, Cost Per Hire Calculator, and Employee Overtime Calculator,
Let us discuss the contents of the template in detail.
Contents of Salary Sheet Apple Numbers Template
This template consists of 3 sheets:
Database Sheet
Consolidation Sheet and
Salary Slip
1. Database Sheet
Database Sheet contains employee wise data for each employee. It consists of following columns for the data to be fed in the sheet:
Name: Name of the employee
Designation: Designation of the employee
Month: Month for which the salary is prepared
Year: Current year
Total Days of the Month
Allowed Leave
Leave Taken
Worked Days
CTC: Total salary without deduction
CTC for the Month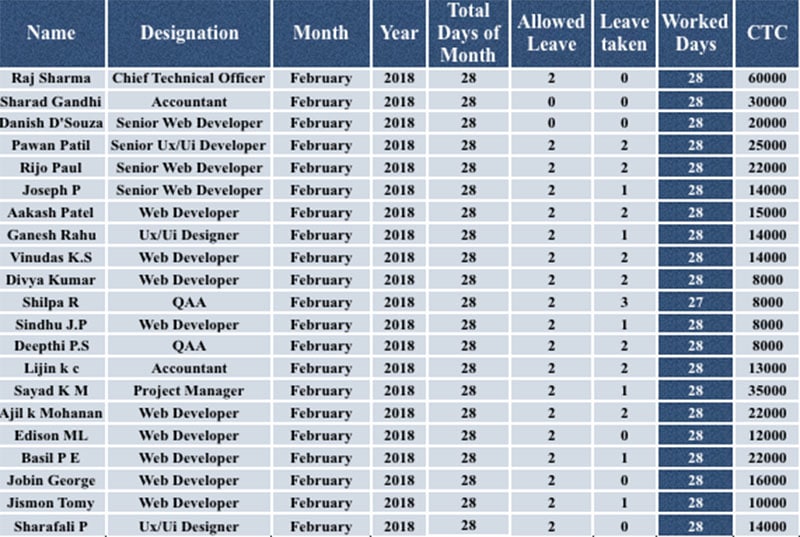 Basic Salary
DA: Dearness Allowance:
HRA: House Rent Allowance
Conveyance
Conveyance Working: Actual Conveyance
Medical Expenses
Medical Working
Special: Special Allowance
Special Working: Actual
Total Working
Bonus
TA: Travel Allowance
Total: Gross Amount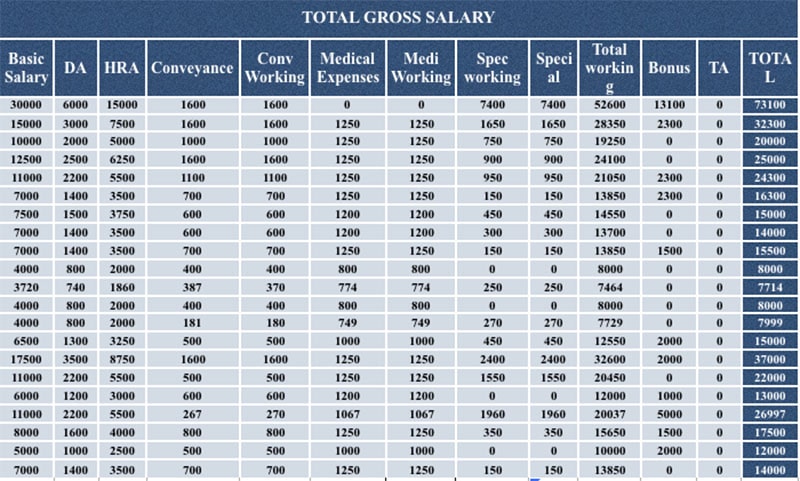 Contribution to PF: Contribution to Provident Fund or any other such deduction
Professional Tax: If applicable
TDS: Tax deduction at source if applicable
Total: Total of Deductions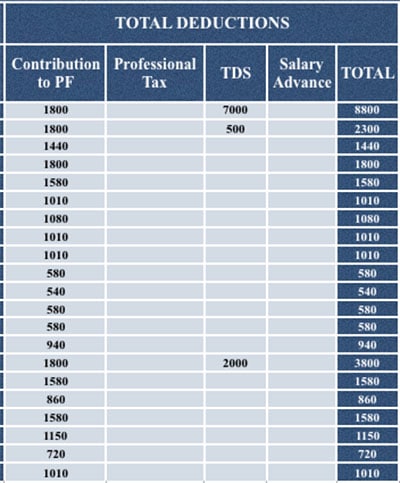 Net Payable: Ner payable salary
Gender
Prefix
Name of Authorised Signatory
PF Applicable: If PF is applicable type yes or no.
Medical Bills Submitted: Type yes or no. If no bills supplied then no medical reimbursement.
Company Name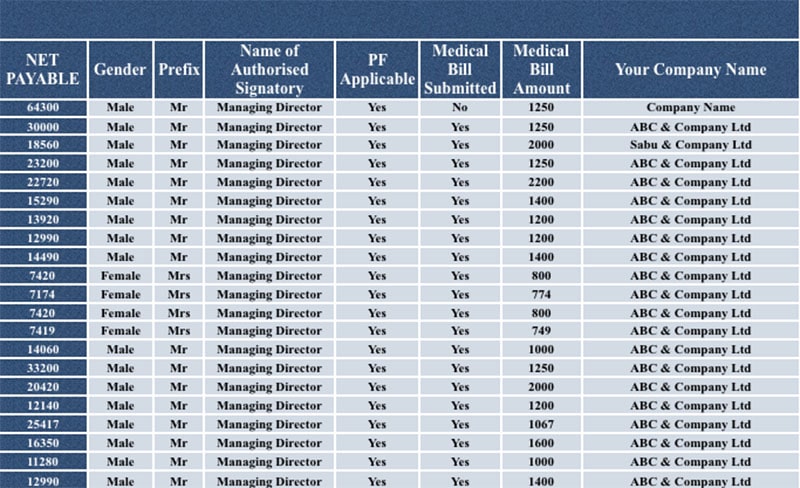 2. Consolidation Sheet
Consolidation sheet is the replica of the database sheet to be printed for approval from the concerned authority. This sheet is auto-populated. Thus, the user doesn't need to enter anything in this sheet.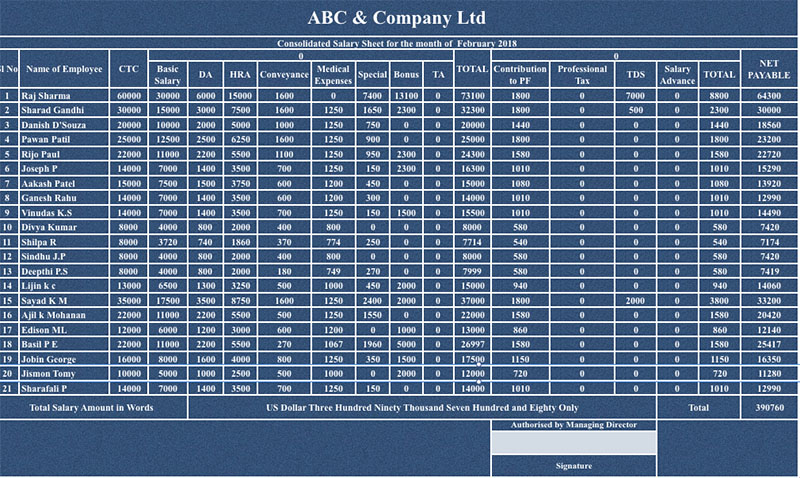 3. Salary Slip
Salary slip is the final outcome of the data entered into the database sheet. This sheet is also auto-populated.
The only thing you need to do is to select the name of the employee on the right side of the sheet. Using Vlookup the sheet will automatically fetch the respective amounts from the database sheet.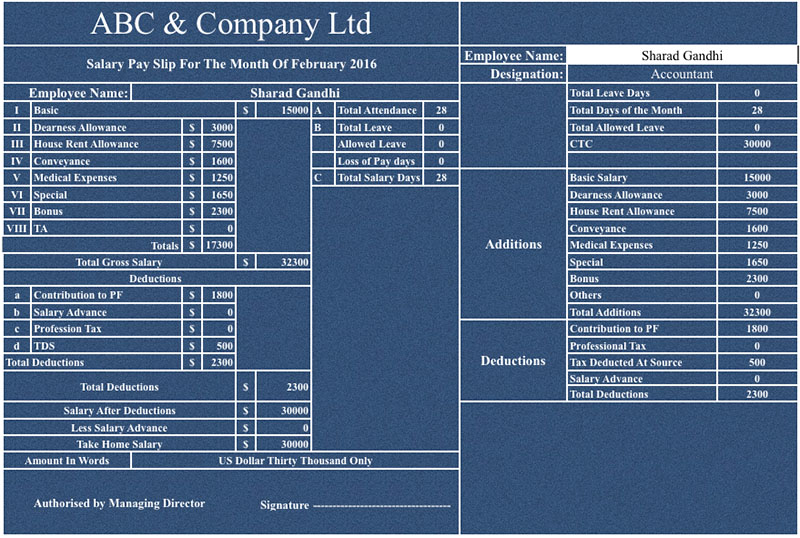 Salary slip will be printed on 2 pages. One will be signed and given to employee and second will be for the company record.
Note: If there are any columns that aren't required can be deleted and the respective formula must be changed. If you wish you can do it by yourself and if not you can contact us for further help.
We thank our readers for liking, sharing and following us on different social media platforms.
If you have any queries please share in the comment section below. I will be more than happy to assist you.