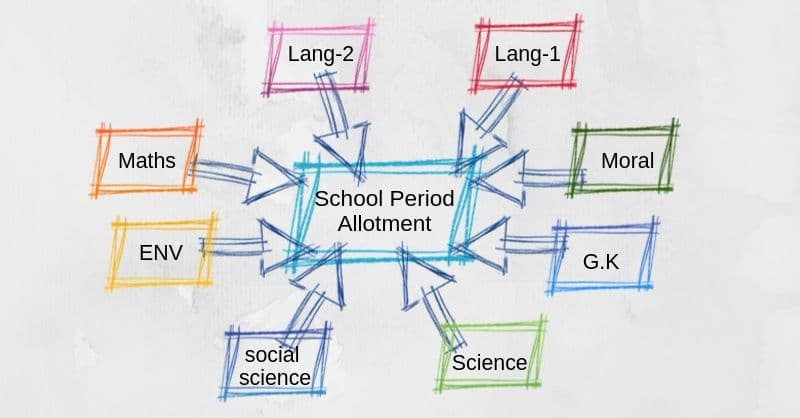 Proper Period allotment to each subject is necessary in order to ensure that each subject syllabus gets completed well in time.
Additionally, this will allow the teachers not only to complete the syllabus in time but also to take revisions of the taught syllabus and help students to study properly.
Every year, the school management, especially the Principal's office has to prepare a viable time table. Time table should be such that it covers each subject in each class.
In this allotment, the principal's office must ensure that a proper period load is given to teachers and helps in the smooth running of classes.
Prior to this allotment, the principal's office obtains suggestions from the teachers for their subjects and classes. Usually, a principal or a school supervisor sets a school time table.
Additionally, the principal also has to make arrangements of periods such that whenever any one or more teachers are absent, there are enough teachers to handle the proxies. After this, the management has tp allot class-wise subject teachers.
Furthermore, this process also involves a class-wise allotment of periods for each subject. Failing to do so can result in non-completion of the syllabus and thus result in chaos.
Tips To Make Proper Allotment of Periods
Here are some tips that if followed can help in proper allotment of the period for each subject:
Allot 9 periods each regular day and 7 periods on a weekend.
Allot the number of periods for a particular subject you wish to assign to a class.
Assign the name of the teacher you wish or find suitable against the respective class subject. As a supervisor or principal, you are the best judge. Decide this depending on the respective teacher's qualification and caliber.
Allot class-wise subjects to teachers like Teacher 1, Teacher 2 and so on.
ensure that you must maintain a reasonable period load of each teacher. Period load beyond reasonable limit may hamper your teacher's working efficiency.
Ensure no class remains empty.
Ensure no teacher gets two allotments in the same period.
This will help you make first the class-wise time table and then the teacher-wise time table.
Allot about 6/7 periods for a subject to a class and the rest 1 or 2 periods must be allocated to co-curricular activities.
Special periods for library and laboratory must be allowed. They are also a part of formative assessment.
Period Allotment System In Excel
Doing all this consumes a lot of time and is really a tiring job. We have created a simple and ready-to-use Academic Period Allotment System in excel after understanding the basic working of the process of allotment in detail.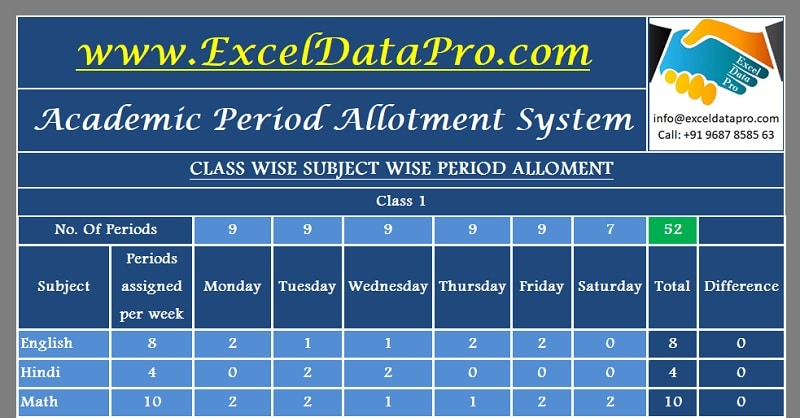 You can also download other educational templates like; Yearly School Attendance Sheet and School Report Card and Mark Sheet Template, and Multiple Choice Question – MCQ Test Checking Sheet from our website.
Using this system helps you prevent errors and make a proper allotment. This template helps you to to perform this task very swiftly and with 100% accuracy.
Furthermore, making of this template involves input from teachers, supervisors and school management. Working with this allotment system you will find it as a cakewalk.
We thank our readers for liking, sharing and following us on different social media platforms.
If you have any queries please share in the comment section below. We will be more than happy to assist you.