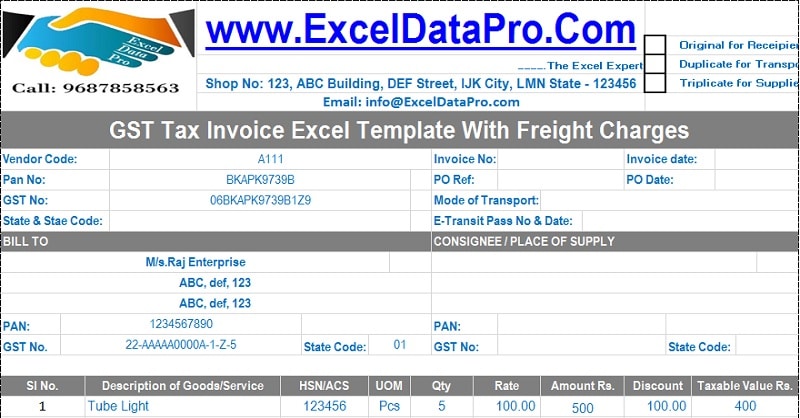 Since the rollout of GST in July, people are still confused about on how to include freight, insurance and packing etc charges in GST Tax Invoice.
GST Council has approved a schedule of GST rates for services and their ruling for Input Tax Credit.
This schedule clearly mentions that GTA service for goods and services will be 5% with no ITC.
You can download the whole schedule from the link below:
SCHEDULE OF GST RATES FOR SERVICES AS APPROVED BY GST COUNCIL
Business needs to issue the invoice which carries such additional charges. So how will they be recorded?
If such charges are included in the tax invoice then:
It should be added to value of goods
Tax applicable on goods will be charged on the amount including of such charges.
It should be kept in mind, GST applicable on GTA services is 5%. But when you include it in your invoice it will be taxed at the applicable GST rate of goods even if the tax rate is higher than 5%.
A simple way to avoid higher payment of tax, freight charges shall be borne by the recipient of the goods.
For packing and other such charges, they need to be included in your invoice.
We have created an Excel template for GST Tax Invoice with freight charges. You can download this template and issue invoices with freight, packing etc charges to your clients.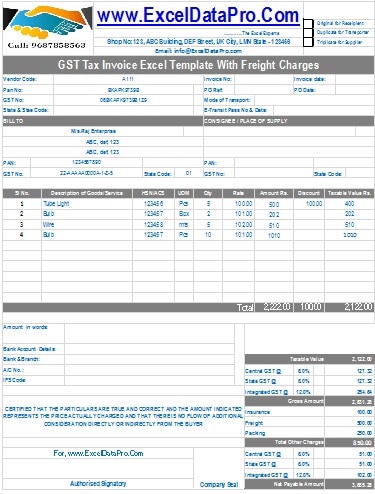 Click here to download GST Tax Invoice Excel Template with Freight Charges.
Click here to Download All GST Excel Templates for Rs 199.

You can also download other GST templates like GST Bill of Supply, GST Payment Voucher, and GST Export Invoice from here.
Let us discuss the contents of this template in detail.
Contents of GST Tax Invoice Excel Template
This template consists of 3 sheets:
GST Tax Invoice.
Customer Sheet.
Product Sheet.
In the first, sheet you can issue the invoice filling in details. The second and third sheets are for creating master sheets for product and customers.
Enter your customers and products which you want to select from the dropdown list.
The invoice sheet consists of 5 sections:
Header
Supplier Details
Receiver Details
Product Details
Billing Summary and Other Details
1. Header
As usual, the header section consists of supplier's company name, address, logo etc.

2. Supplier's Details
Supplier's details include Vendor Code if applicable, GSTIN, Pan, State, State code, Invoice no, Invoice Date, mode of transport and E-transit pass and date etc.

3. Receiver Details
Receiver's details include name, address, PAN No, GSTIN, State and State code. If the delivery is different from the receiver then you can mention them manually in consignee details.

4. Product Details
Product details section consists of 1 column each; Serial number, Description of goods, HSN code, Unit of measurement, Quantity, Rate, Amount, discount and the Taxable amount
Amount= Quantity X Rate
Taxable Value = Amount – Discount

5. Billing Summary and Other Details
This section consists of the billing summary. It is calculated as below:
Taxable Value + CGST + SGST +IGST = Gross Amount
Insurance + Freight + Packing = Total Other Charges
Net Payable Amount = Gross Amount + Other Charges + Tax On Other Charges.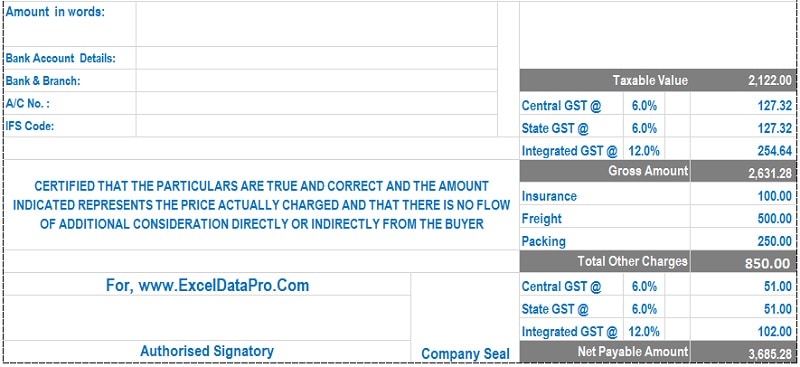 Apart from that, this section consists of Amount in Words, Term & Conditions, Signature, company seal and bank details.
We thank our readers for liking, sharing and following us on different social media platforms.
If you have any queries please share in the comment section below. We will be more than happy to assist you.