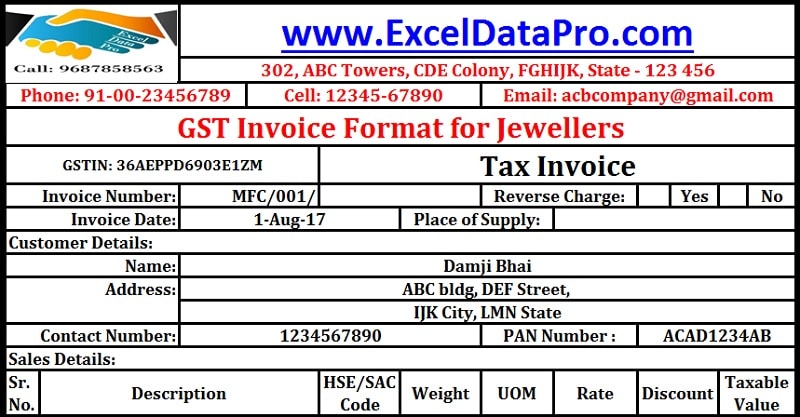 In our previous articles, we have discussed around 17 different formats of GST invoices and vouchers. In this article, we will discuss the GST Invoice format for Jewelers.
Usually, a jeweler sales new gold and also takes old gold of the customer.
Keeping this process of the transaction in mind, we have designed a GST invoice format for Jewellers in Excel. Using this template you can issue the invoice to your retail customers.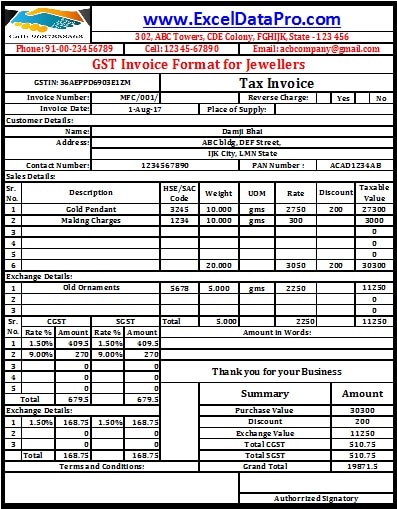 This template consists of predefined formulas. Thus, you just need to enter the relevant data and it will automatically calculate the rest. It can be useful small retail jewelry shops.
Click here to Download GST Invoice format for Jewellers in Excel
Click here to Download All GST Excel Templates for Rs 199.

Additionally, you can also download other accounting templates like Petty Cash Book, Simple Cash Book, and Accounts Payable from here.
There might have been many questions and confusions in the minds of our jewelers.
Questions related to the percentage of GST on job work charges, customer dealings, Reverse Charge and much more.
The Youtube video given below by CA Nitesh Kothari gives answers to many of such questions:
Furthermore, you can also download the pdf from the link below which contains the frequently asked question uploaded by Indian Bullion and Jewellers Association Ltd.
Frequently Asked Question related to GST in Jewellery Industry
There are many things unclear in this PDF but still, it gives replies to many general questions.
We are not from jewelry industry so there are chances of mistakes. If you find any feel free to update us so that they can be amended.
Let us discuss the contents of the template in detail.
Contents of GST Invoice Format for Jewelers
This template consists of 5 sections:
Jewelers Details
Customer Details
Sales Details
Exchange Details
Taxation and Billing Summary
1. Jeweler's Details
Jeweler's details include the company name, address, contact details, GSTIN and the heading of the invoice "Tax Invoice".

2. Customer Details
Customer details include name, address, contact number and pan card number as per the GST rules.

As this is a retail transaction where the invoice is issued directly to the customer, it belongs to the B2C category. Hence, it doesn't require GSTIN of the customer.
Instead of GSTIN, PAN card details of the customer are obtained.
3. Sales Details
Sales details include the details sale of ornaments, making charges etc. It consists of the following columns:
Sr. No: Serial numbers of items.
Description: In this field, you can record the description of the ornaments and their making charges etc.
HSN/SAC Code: HSN code of product or SAC code services.
Weight: Weight of the precious metal.

UOM: Units of measurements like gms etc.
Rate: Rate of products. You can set according to your need. it can be per grams or Carats.
Discount: Enter discount in terms of the amount if applicable.
Taxable Value: (Qty X Rate) – Discount = Taxable value.
4. Exchange Details
Exchange details contains the same columns as Sales detials. Only Discount is not applicable in exchange.

5. Taxation and Billing Summary
Taxation section consists of taxation details only on the sales made and not on exchange.
Usually, transactions for jewelry shops are intra-state. Hence, IGST tax is not included here. Can be included if required.
As per GST law when there is the exchange of precious material there is no GST applicable as the customer is non-registered.
Apart from the taxation, this section also consists of billing summary, the amount in words, invoice terms & conditions, business greetings and the signature section.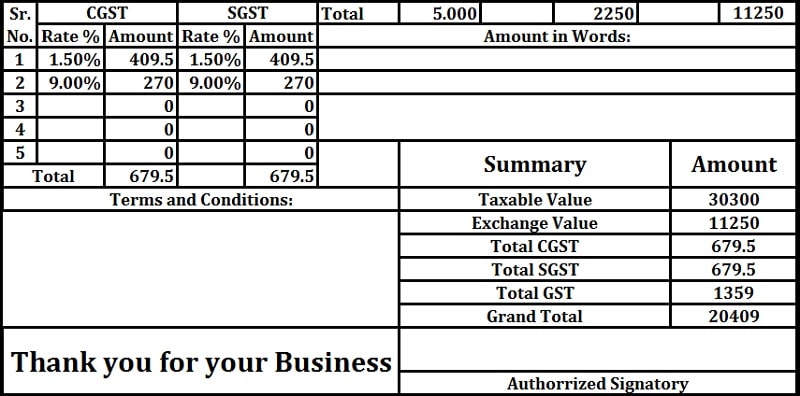 Billing Summary:
Taxable Value
Less: Exchange Value
Add: Total GST (Total GST = Total CGST + Total SGST)
We thank our readers for liking, sharing and following us on different social media platforms.
If you have any queries please share in the comment section below. I will be more than happy to assist you.