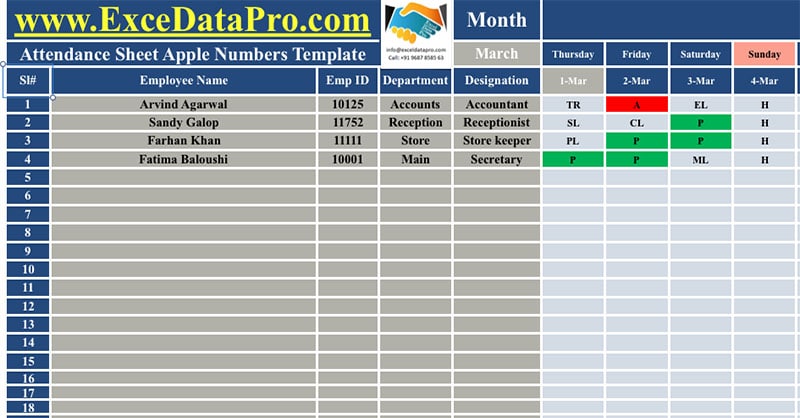 You can manage attendance of your employees now on a Mac operating system using our Attendance Sheet Apple Numbers Template for payroll and salary purpose. This template helps you to micro manages the attendance and also records monthly attendance with a summary of paid leaves, sick leaves maternity leaves etc all on one sheet.
It a document very helpful to HR and payroll managers as well as small business owners. It requires the minimal amount of effort and very simple to use. It consists of predefined formulas and formatting.
Usually, office admins/hr assistants are required to keep detailed records of employees attendance. It includes types of leaves also. There are many types of leave in a company like sick leave, paid leave, earned leave, maternity leave etc.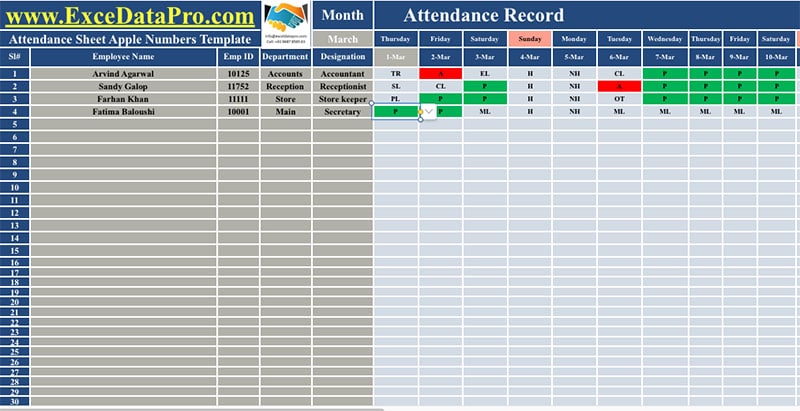 You can maintain up to 50 employees record in this template. You just need to enter some employee details and select from the drop-down menu.
To ease this process and help you work smarter instead of harder, we have created a fully automated and organized Attendance Sheet Apple Numbers Template.
Click here to download Attendance Sheet Apple Numbers Template.
You can download the same in excel from the link below:
Attendance Sheet Excel Template
In addition to the above, you can also download other templates in Apple Numbers like Salary Sheet Apple Numbers Template, Cost Per Hire Calculator Apple Numbers Template, Over Time Calculator Apple Numbers Template and much more.
Let us discuss the contents of the template in detail.
Contents of Attendance Sheet Apple Numbers Template
Attendance Sheet consists of 3 sections:
Employee Details
Attendance Record
Attendance Summary
1. Employee Details
Employee details section consists of employee name, employee id, employee department and employee designation. Additionally, it consists of Month for which the attendance is prepared.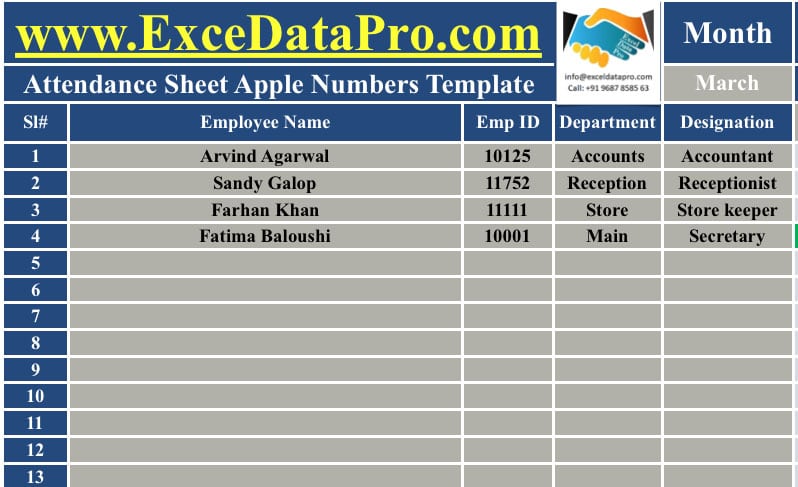 2. Monthly Attendance Record
Monthly Attendance record consists of date and day in the top columns. Enter the date in the first brown column of attendance section and it will automatically update the days of the week in the above section. It will mark the cells with Sunday in light red.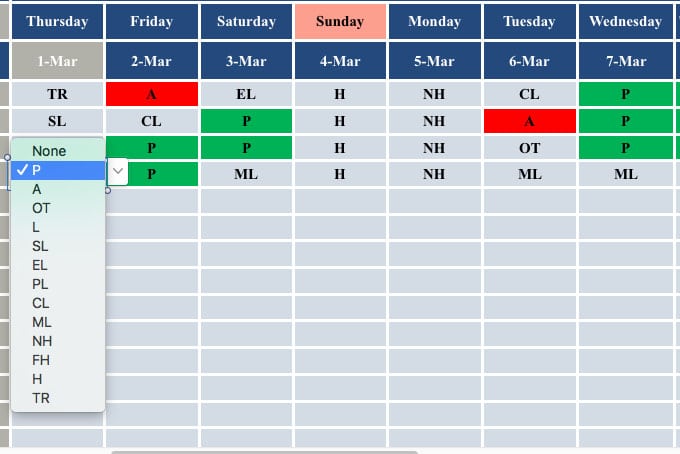 To mark the attendance a pop-up menu /drop-down menu has been given. Select the relevant code from the list. The list contains the following abbreviations:
P – Present
A – Absent
OT – Overtime
L – Leave
SL – Sick Leave
EL – Earned Leave
PL – Paid leave
CL – Casual Leave
ML – Maternity Leave
NH – National Holiday
FH – Festive Holiday
H – Normal Holiday
TR – Training
You just need to select the applicable code from the list of the respective employees. If you select P – Present the cell will turn green and if you select A – Absent then the cell will turn red. At the bottom, you can see the total number of employees present.
3. Attendance Summary
Attendance Summary consists of the summary of each type of attendance. Using count function, it will count the number of the person in each category like Present, absent and so on.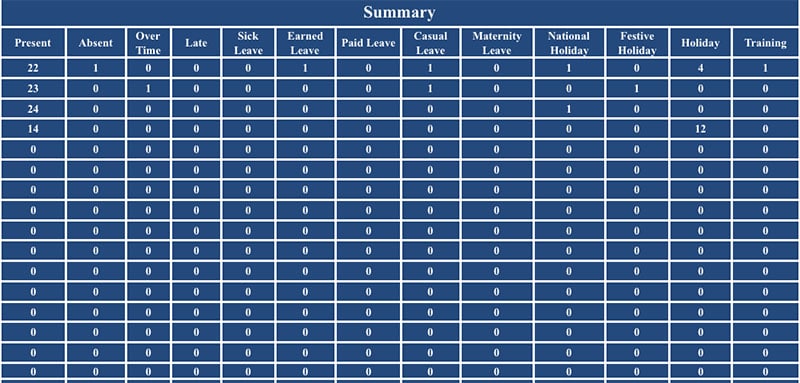 We thank our readers for liking, sharing and following us on different social media platforms.
If you have any queries please share in the comment section below. I will be more than happy to assist you.