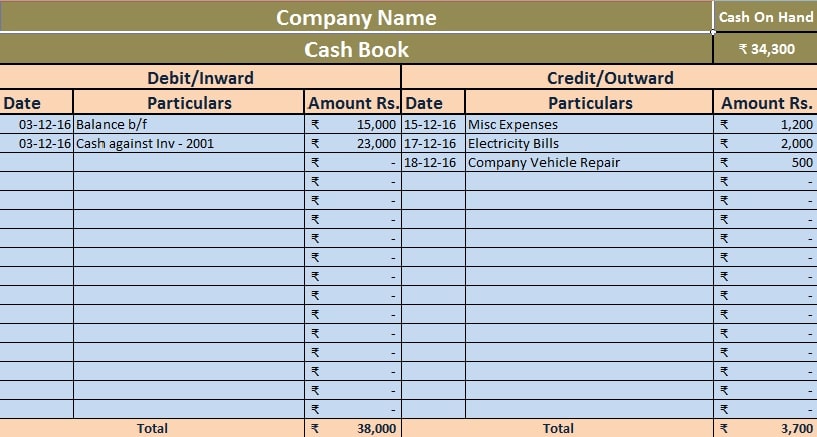 What is a Cash Book?
Cash book is the record of cash transaction done in a company on a day to day or regular basis. Cash book is just like a ledger account. There is no need to open a separate cash account in the ledger.
The balance of cash book is directly posted to the trial balance. Since cash account is a real account, this ruling is followed, i.e. debit what comes in and credit what goes out. 
All the received cash is posted on the debit side and all payments and expenses are posted on the credit side of the cash book.
Excel helps us to create/design a tailored cash book.
Click here to Download Simple Cash Book Excel Template.
Creating a design/layout for cash book.
Let us discuss the designing of this template in detail.
Row 1 = Your Company/Business Name. Merge cells A1 to E1 Next Cells F1 and F2 is Cash on Hand, Its will automatically change according to the difference in Debit and Credit Amounts. Formula applied is =(D21-H21)
Row 2 = Heading of Cash Book. Cells A2 to E2. Merge these cells.
Row 3 = Merge A3 to C3 and put heading of Debit/Inward. Merge D3 to F3 and put heading of Credit/ Outward.
Row 4 = This row consist of subheadings for data input. See the table below:

Date, Particular, Amounts in Debit/Inward and Credit/Outward and their respective dates are details to be entered manually.
For Cash On Hand you can set a function which automatically calculates Amount of Debit and Credit Side. Cash On Hand Amount here is calculated by deducting total amount Debit Side (Cell D21) –Total amount Credit Side (Cell H21). In our sheet formula used is =C21-F21.
If you have any queries or questions, share them in comments below and I will be more than happy to help you.